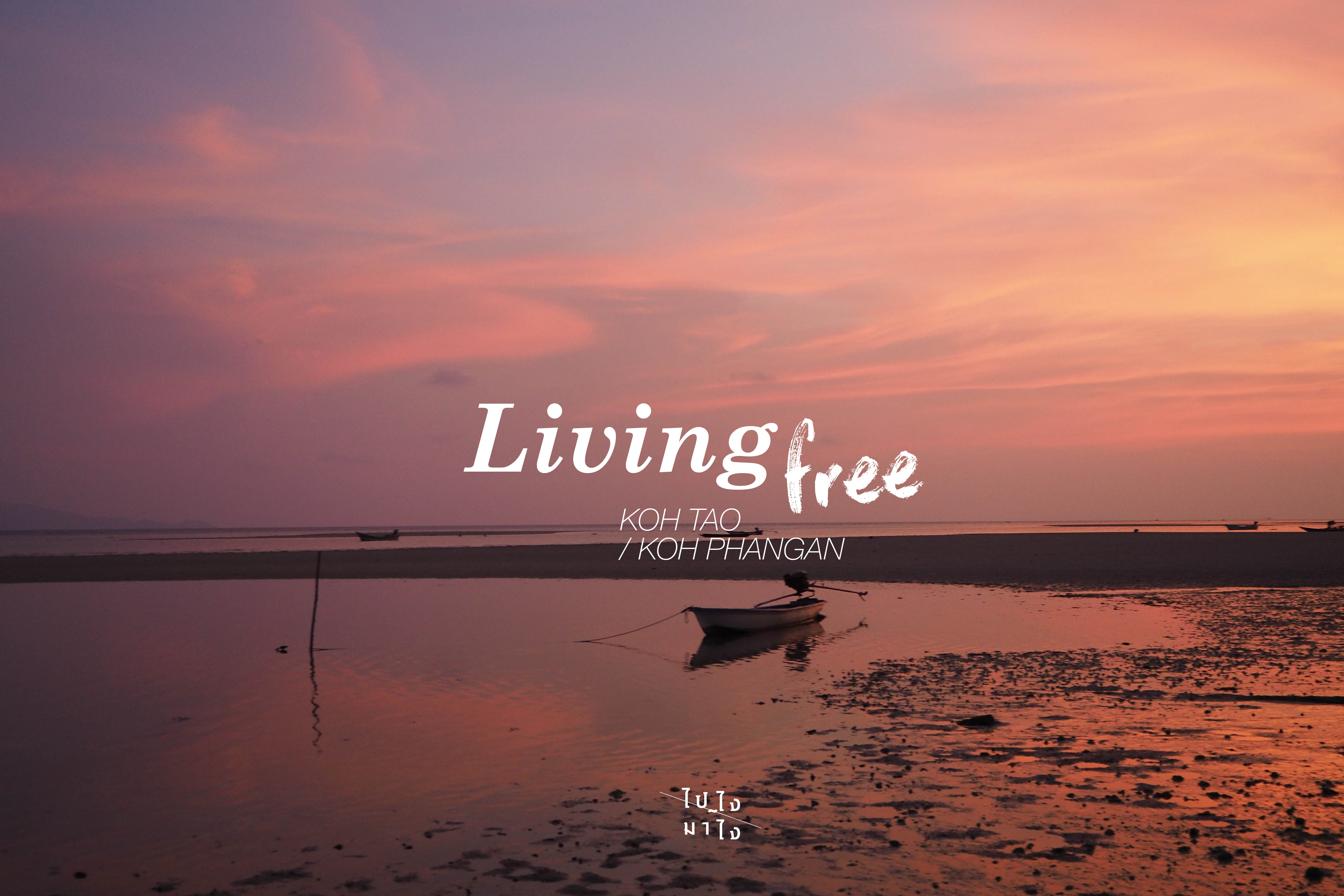 ถ้ากำลังหาทะเลสำหรับพักผ่อนปลายปี ถือเป็นรางวัลให้ตัวเองหรือเป็นของขวัญปีใหม่ที่แซ่บที่สุดสำหรับปี 2017 เราขอแนะนำ KOH TAO -เกาะเต่า และ KOH PHANGAN – เกาะพะงัน เห็นรีวิวมาเยอะสำหรับทริปเกาะเต่าและพะงัน แต่บอกเลยว่าแบบนั้นมันเหนื่อย วิ่งขึ้นรถ นอนบนเรือ นั่งเรือต่อ เที่ยว กิน รีบนอน เมาแล้วก็กลับ เราเชื่อว่า 3 เกาะที่อยู่ใกล้ๆ กัน (สมุย + พะงัน + เกาะเต่า) เป็นเกาะที่ต้องว่าง ต้องชิว และต้องมีเวลาถึงจะเข้าใจความหมายที่คำว่าพักผ่อน เบะปากรัวๆ ถ้าไปแค่ 2 คืน 3 วัน ไม่จ้ะ!! เพราะเราขออยู่กันยาวๆ ซัก 4 คืน 5 วัน เอาให้กรีดเลือดออกมาเป็นค็อกเทล แชมเปญ และอาหารทะเลที่กินกันทั้งวันทั้งคืน ส่วนตอนสายๆ ก็นอนอ่านหนังสือให้ลมทะเลพัดเป็นคลื่นให้เย็นสบาย แค่นี้ก็มีความสุขที่สุดแล้วจริงๆ!
If you are looking for the beach holiday as a reward or a gift for this upcoming New Year break, we definitely recommend you to visit Koh Phangan and Koh Tao! Bear in mind though, that this can get pretty tiring, with the amount of traveling on the buses, vans, ferries, follow by traveling, eating, chilling, and then rushing back. However, we believe that the 3 nearby islands (Koh Phangan, Koh Tao and Koh Samui) are perfect destinations for you to truly come and understand the true meaning of 'relaxing'. So.. say no to 3-day-2-night kind of trips, and truly enjoy the time in the paradise for at least 4 or 5 days!
สำหรับการเดินทางของเรารอบนี้เนื่องจากไม่อยากเสียเวลานั่งรถ เพราะอาการเสี้ยนทะเลมันเยอะซะเหลือเกิน เราเลยเลือกออกเดินทางโดยเครื่องบินทั้งไปและ โดยลงที่สุราษฯก่อน แล้วนั่งเรือต่อไปเกาะเต่า ก่อนวกกลับมาพะงัน แล้วก็กลับสุราษฯ ต่อเครื่องบินกลับกรุงเทพ พูดกันตามตรงว่าแม้จะนั่งเครื่องมาลงสุราษฯ จนมาถึงเกาะเต่านี่ก็ใช้เวลาเป็นวันแล้วนะ แต่มันไม่เบื่อเลยซักนิด นั่งๆ นอนๆ ดูฝรั่งเพลินๆ อ้าวยังไม่ทันได้ไปขอไอจี ถึงซะละ 55555
As for our trip, we couldn't wait till we get to the beach, so we decide to take the flight to Surat Thani, and take the ferry to Koh Tao, before making our way back to Koh Phangan (which is nearer to Surat Thani) later. Even though the journey takes us almost the whole day, I can say that we are not bored at all, with the sights of all the hot bods surrounding us!
---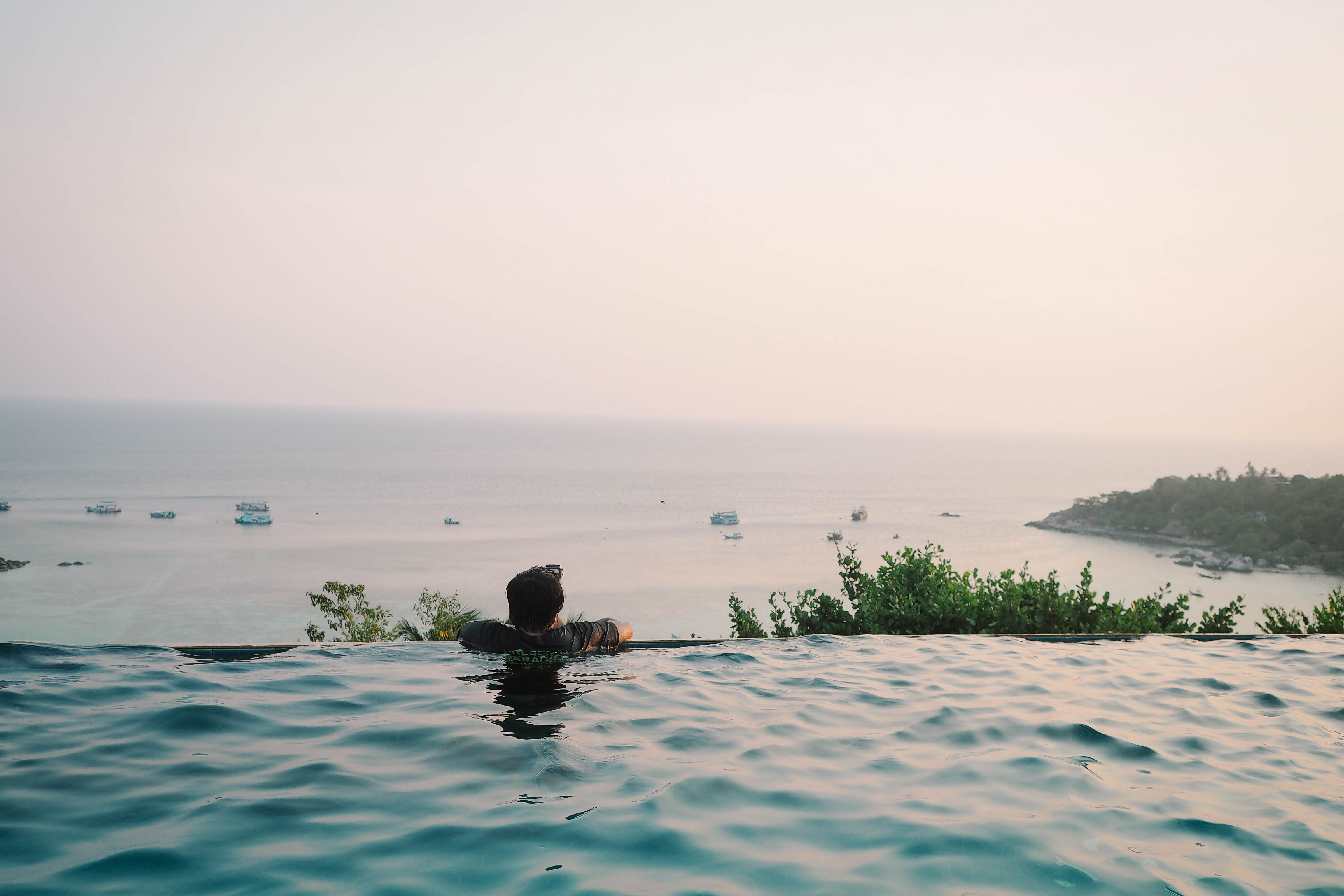 รอบนี้เราพักกันที่ เกาะเต่า รีสอร์ท (KO TAO Resort) ด้วยความที่ดูรูปในอินเตอร์เน็ตมาเห็นมีสระว่ายน้ำที่อยู่บนเขา และมีวิวทะเลอยู่ด้านล่างแบบ 360 องศา! " โอ้ยยยยยย สวยชิบหาย" นี่คือสิ่งที่อุทานออกมาตอนเห็นรูป แล้วบอกกับตัวเองว่า โอเค กูนอนที่นี่แหละ 555555
This time round, we stay at KO TAO Resort, because we were so impressed when we saw the pictures of the resort's pool which is actually situated on the mountain level, but offers you with the 360-degree view of the ocean underneath, and we knew back then that we had to book the room here for sure.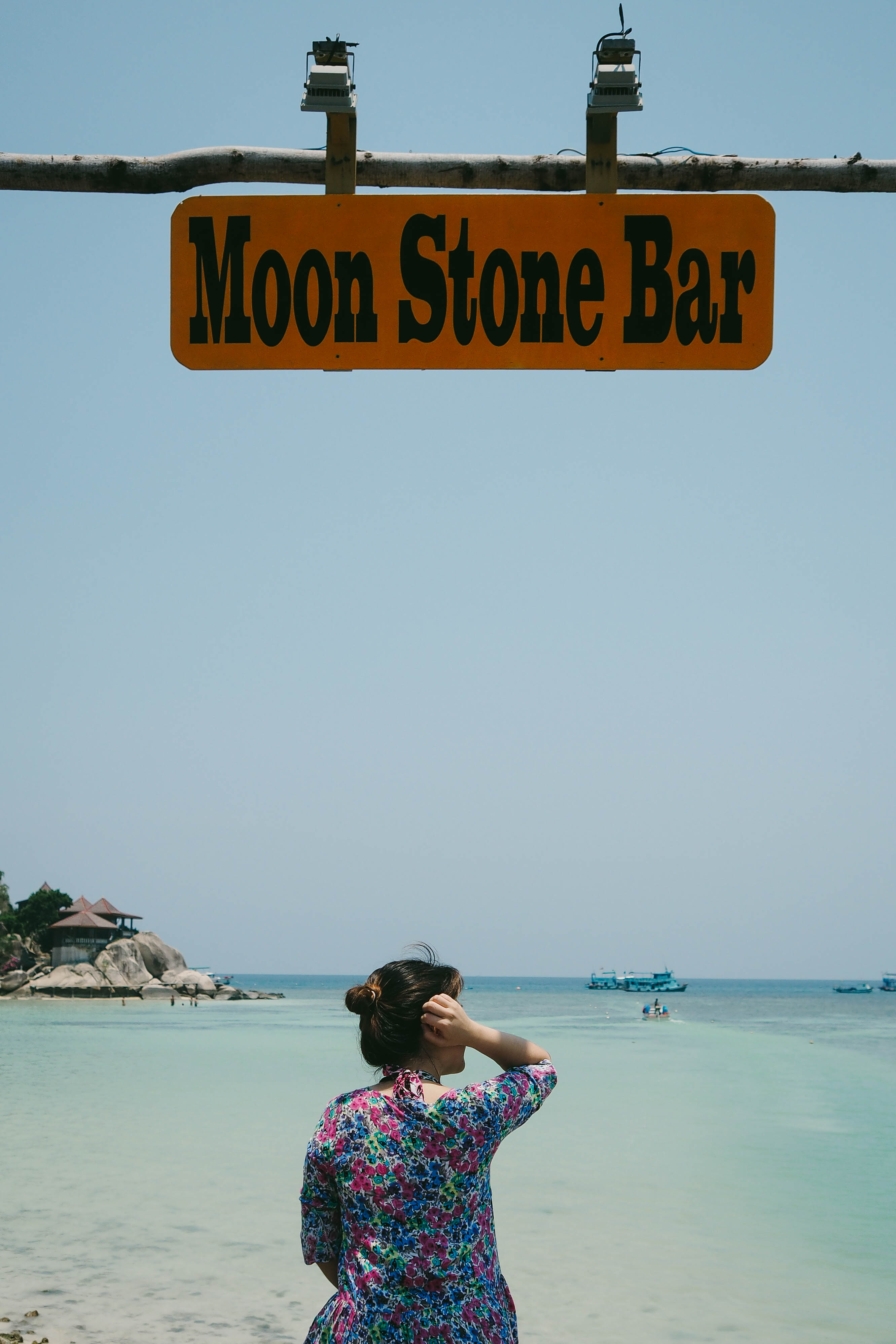 เกาะเต่า รีสอร์ทจะมี 2 โซนใหญ่ๆ คือโซนหน้าหาด ที่เรียกได้ว่าแทบจะเป็นหาดส่วนตัว เพราะเงียบ สงบ ทำให้บรรยากาศเหมาะโคตรที่จะมาพักผ่อน คือถ้าพกหนังสือนิยายมา 10 เล่มมาอยู่ 3 วันก็อ่านหมด เพราะมันทำให้มีสมาธิและผ่อนคลายมากจริงๆ
KO TAO Resort has 2 main zones. First, the Beach front zone, which is more or less like a private beach due to its serenity. It is indeed suitable for both relaxing and focusing, well, I bet you can just lie down at the beach, and finish at least 10 books within 3 days!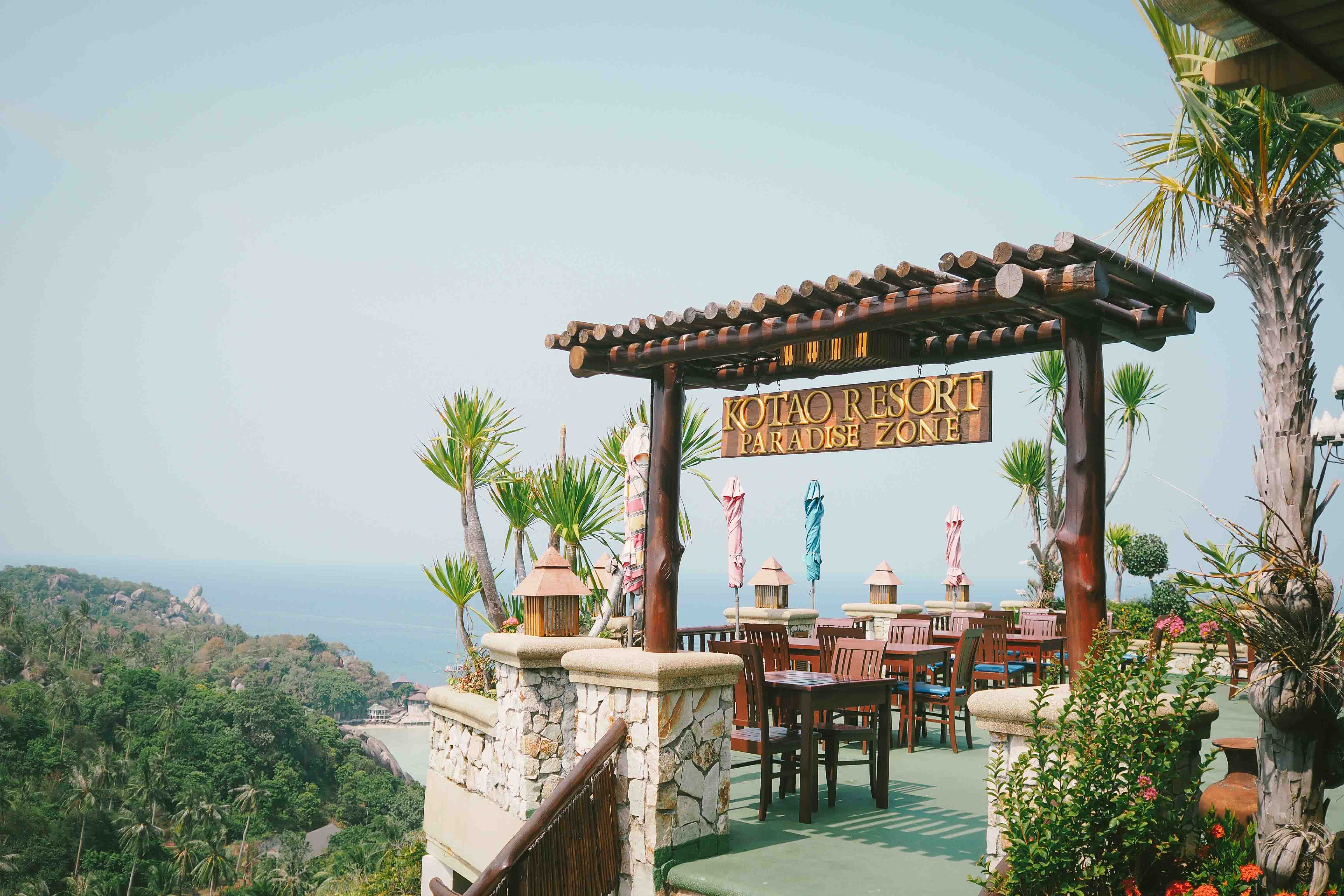 กับฝั่งที่มีสระว่ายน้ำบนเขาซึ่งเรียกว่า Paradise Zone โซนนี้บอกเลยว่าดีงาม ตื่นเช้าซักหน่อยมานั่งกิน Breakfast ตอนเช้าเพลินๆ ดูวิว เกาะต่างๆ พร้อมกระโดดน้ำเล่นให้ฉ่ำปอด หรือจะมาช่วงพระอาทิตย์กำลังตกแบบ Vanilla Sky ก็สวยจนแทบอ่อนระทวย ไม่อวยเยอะคือต้องมาลองเองซักคืนจริงๆ ส่วนห้องพักก็ตามมาตรฐานโรงแรมบนเกาะทั่วไป อาจจะไม่ได้หรูหราหมาหอน แต่ก็ครบครันสิ่งที่จำเป็นต้องมี และจำเป็นต้องใช้แค่นี้เราก็พอใจแล้วสำหรับการนอนบนเกาะ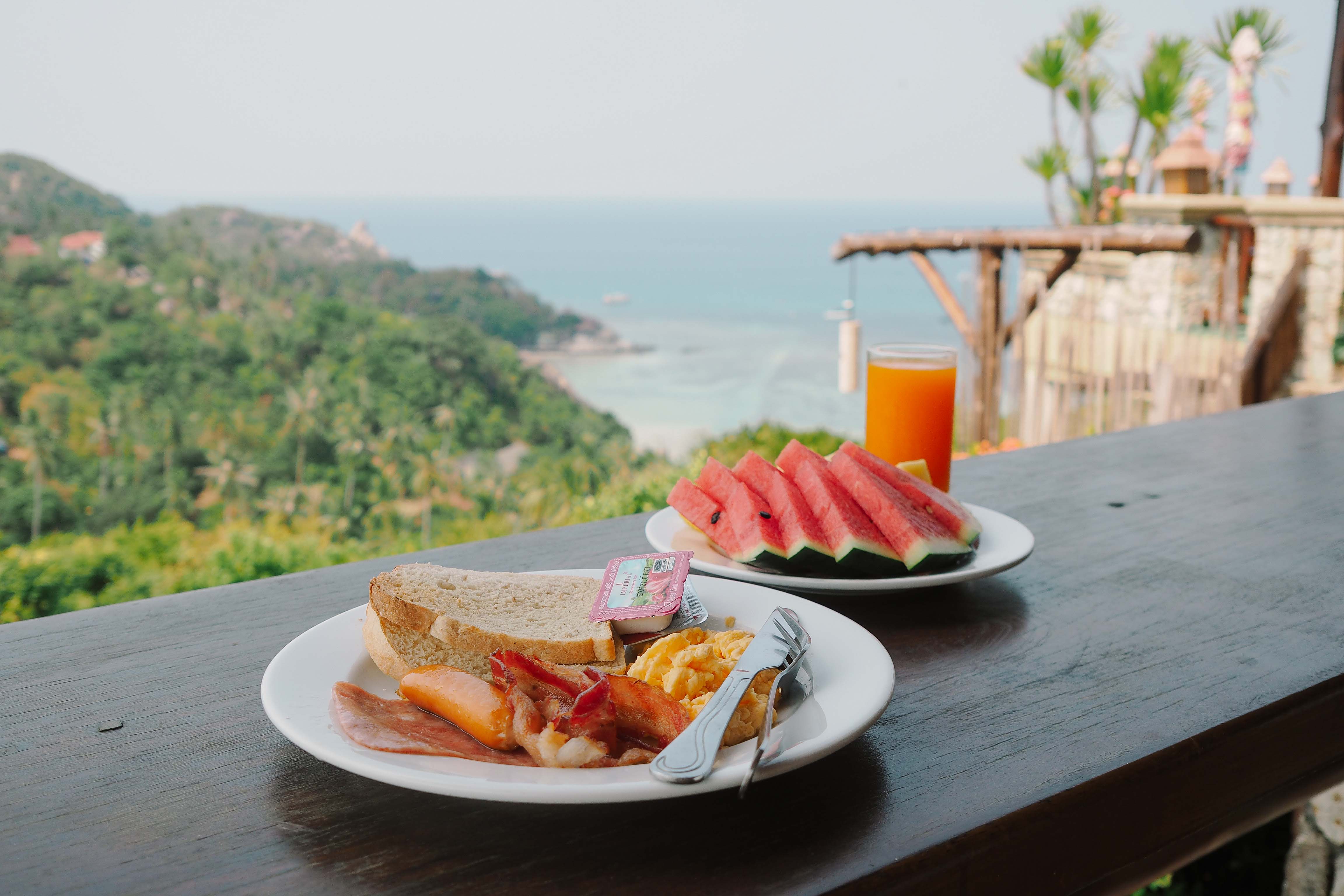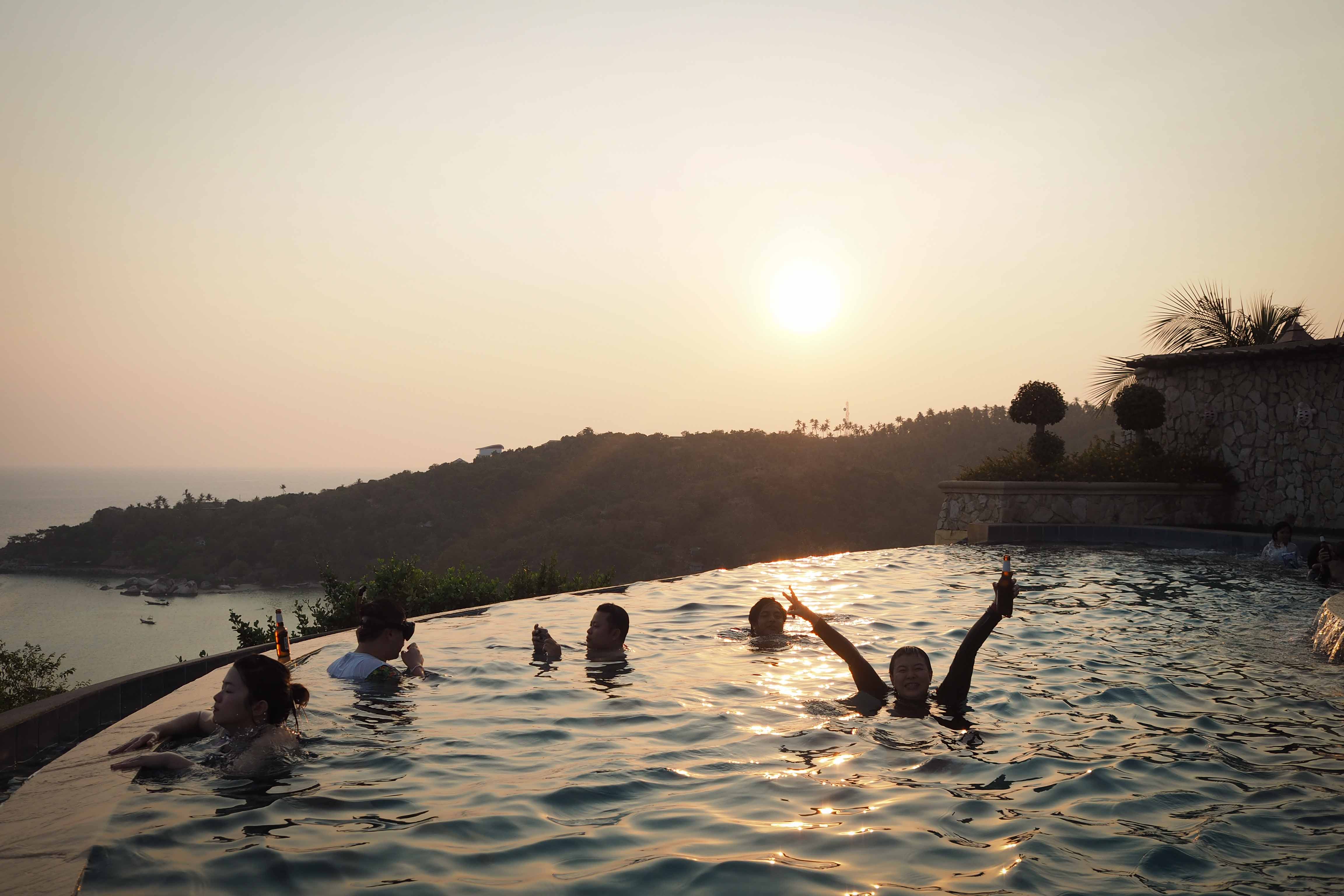 Second, the Paradise zone, which is the zone with the swimming pool on the mountain level. We definitely recommend this amazing zone for anyone to come for the breakfast, enjoy the gorgeous view of the ocean, and jump into the beautiful pool right here. As pretty as this zone sounds during the day time, we can tell you that nothing is as pretty as the sunset here, with the breathtaking vanilla sky it offers. Well, let's not focus on our explanation, but please come and try it out yourself. The rooms might be the same as other standard island resorts, but it is well facilitated, and we are very content with the place.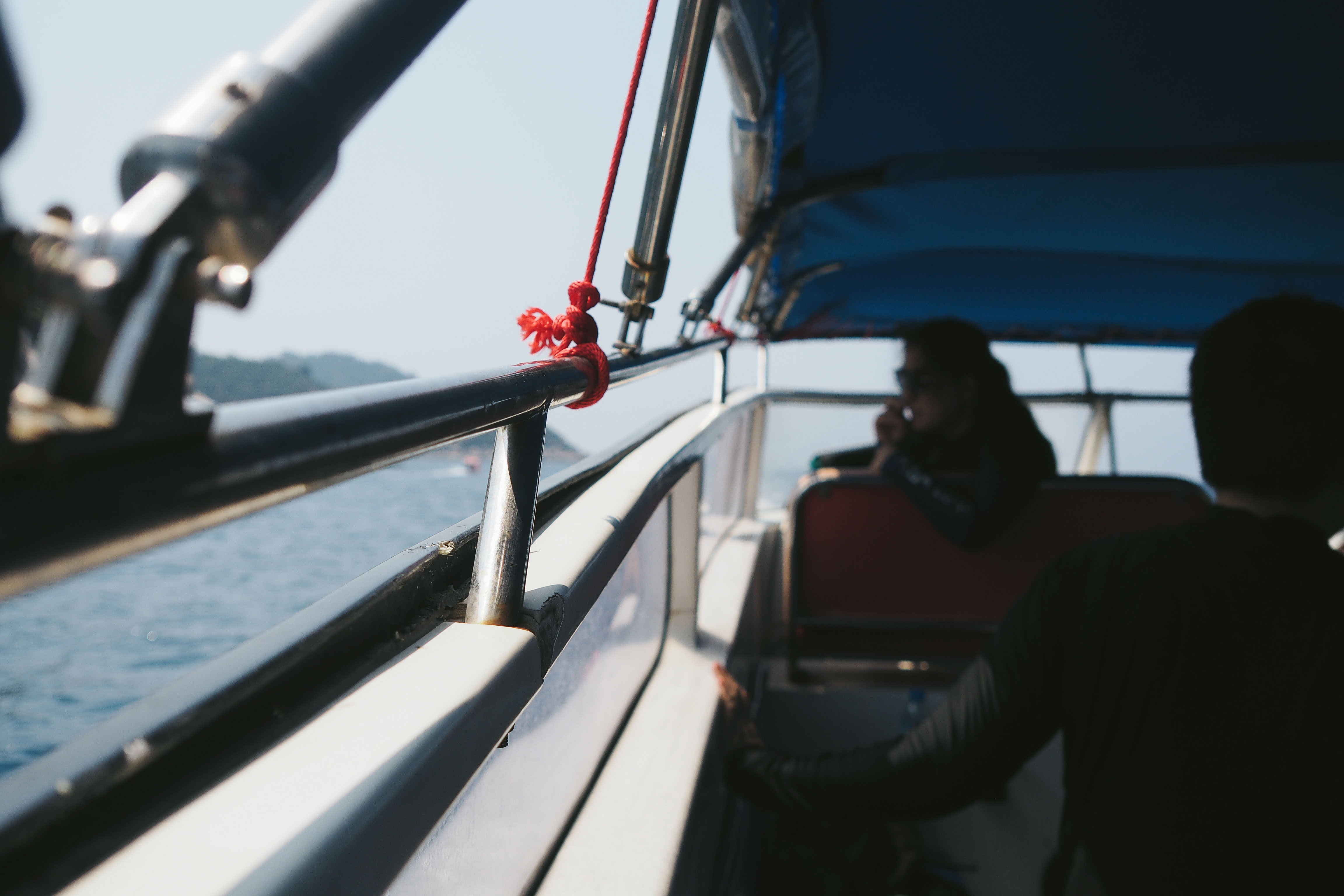 เพราะเรามีเวลาบนเกาะเต่าค่อนข้างน้อยเลยเลือกที่นี่เพราะว่ามีทุกอย่างครบครัน ไม่ว่าจะบริการเรือออกไป snorkel ตามเกาะต่างๆ หรือจะไปเที่ยวเกาะนางยวน ที่นี่ก็มีบริการ Speed Boat ของตัวเองให้บริการแบบสวยๆ ราชนิกุล ไม่ต้องไปเบียดเสียดกับใคร ที่สำคัญสำหรับสาย
ไฮโซตัวปลอม เที่ยวดีแต่ต้องถูก 55555 คือราคาไม่แรง ไม่แพงมากเกินไปอีกด้วยนะฮ้า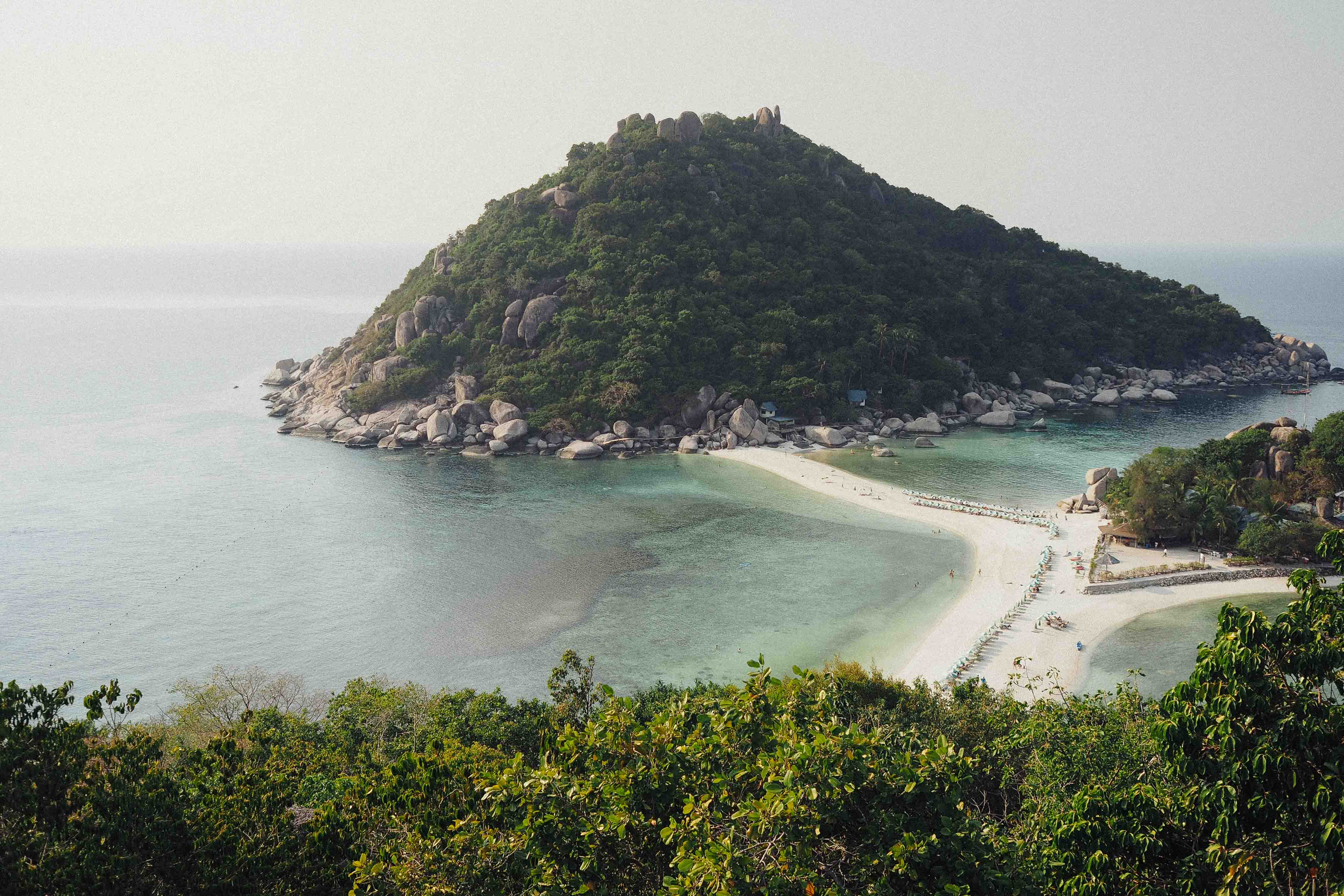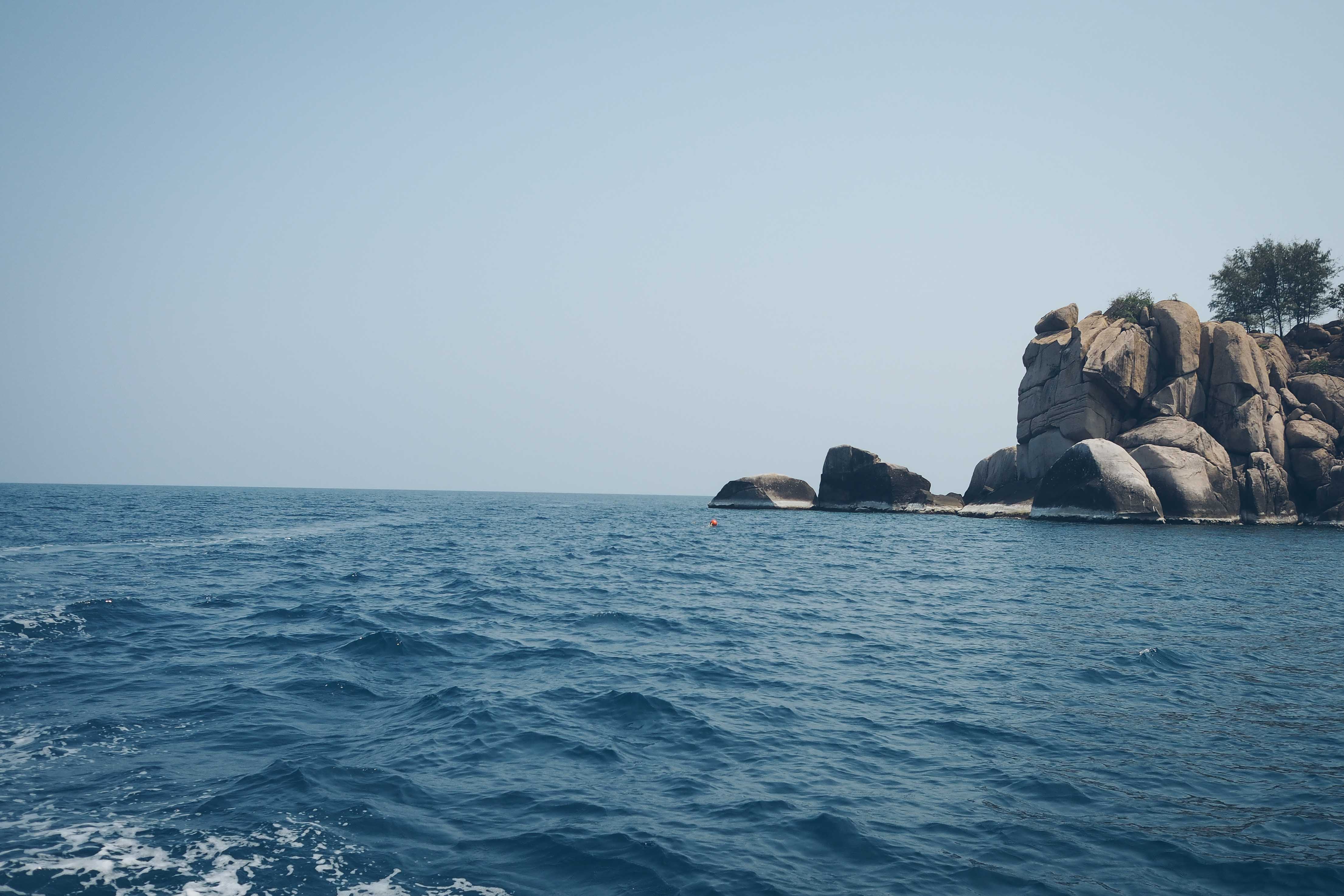 As we have pretty limited time on Koh Tao, we choose this place as it offers everything we need, from the snorkeling and diving trips and private speed boat ride to Koh Nang Yuan, which comes at a good price and the great comfort.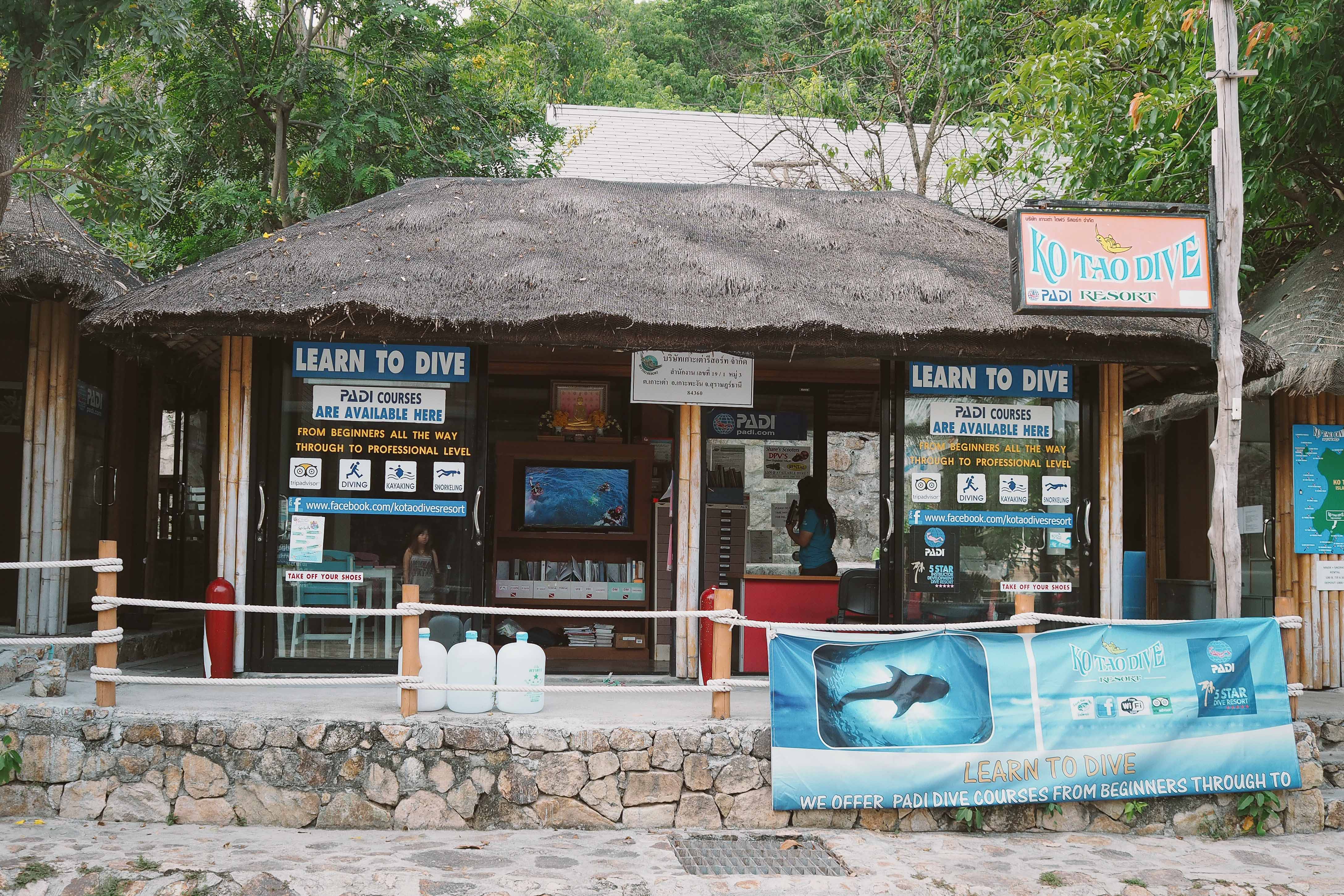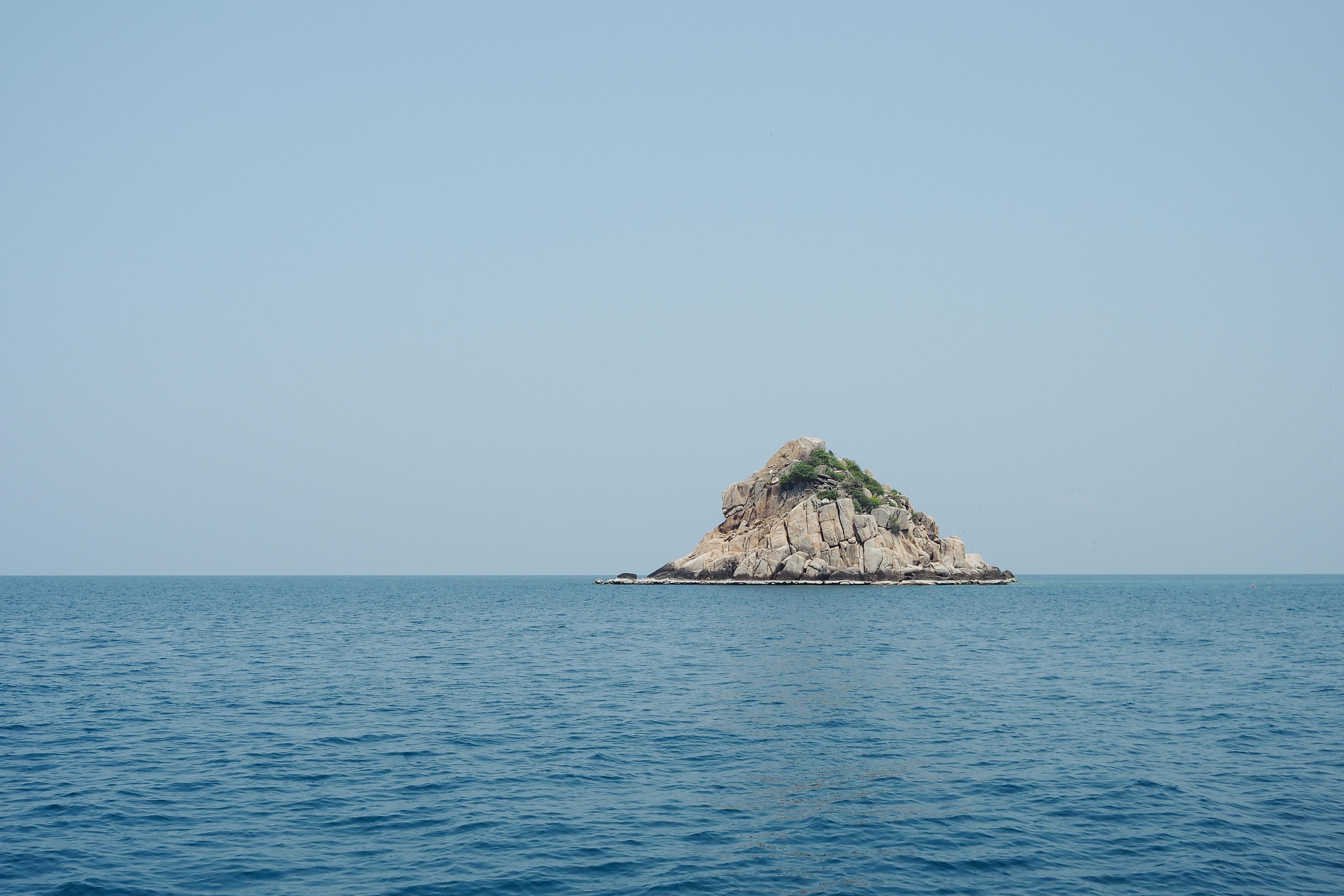 แล้วเกาะเต่าก็เด่นดังเหลือเกินเรื่องดำน้ำที่นี่ได้รับการรับรองให้เป็น 5 Star Dive Resort ด้วยนะ ถ้าชอบดำน้ำก็ติดต่อได้เลยเหมือนกัน ถ้ามี License แล้ว Fundive ก็เริ่มต้นแค่ 800 บาทเท่านั้นหรือจะมาเรียนในโปรแกรมอื่นๆ ก็ติดต่อได้เลยเหมือนกัน เราชอบที่นี่ไม่ใช่เพราะมันหรูหรา หรือบริการแบบสุดยอด แต่เราชอบเพราะความง่ายๆ ของที่นี่ คุยง่าย พูดง่าย คนเยอะๆ แบบเราเวลาเรียกร้องอะไรไปก็ได้ง่ายๆ เหมือนกัน ชีวิตแบบชิวๆ ที่เกาะเต่า ถ้ากำลังจะมาควรมีที่นี่เป็นตัวเลือก
Also, this place is very renowned for its diving course: It is recommended as the 5 Star Dive Resort. So if you are into diving, this is your destination. If you already have the license, Fundive here starts from just 800 baht! And there are plenty of other diving programs for you to try out as well. We love this place, not because of its luxury or premium service, but the simplicity of people here, which suits demanding people like us (LOL) who keep asking for many things. So if you are coming to Koh Tao and looking for a chill place to stay at, this is the place you have to be.
---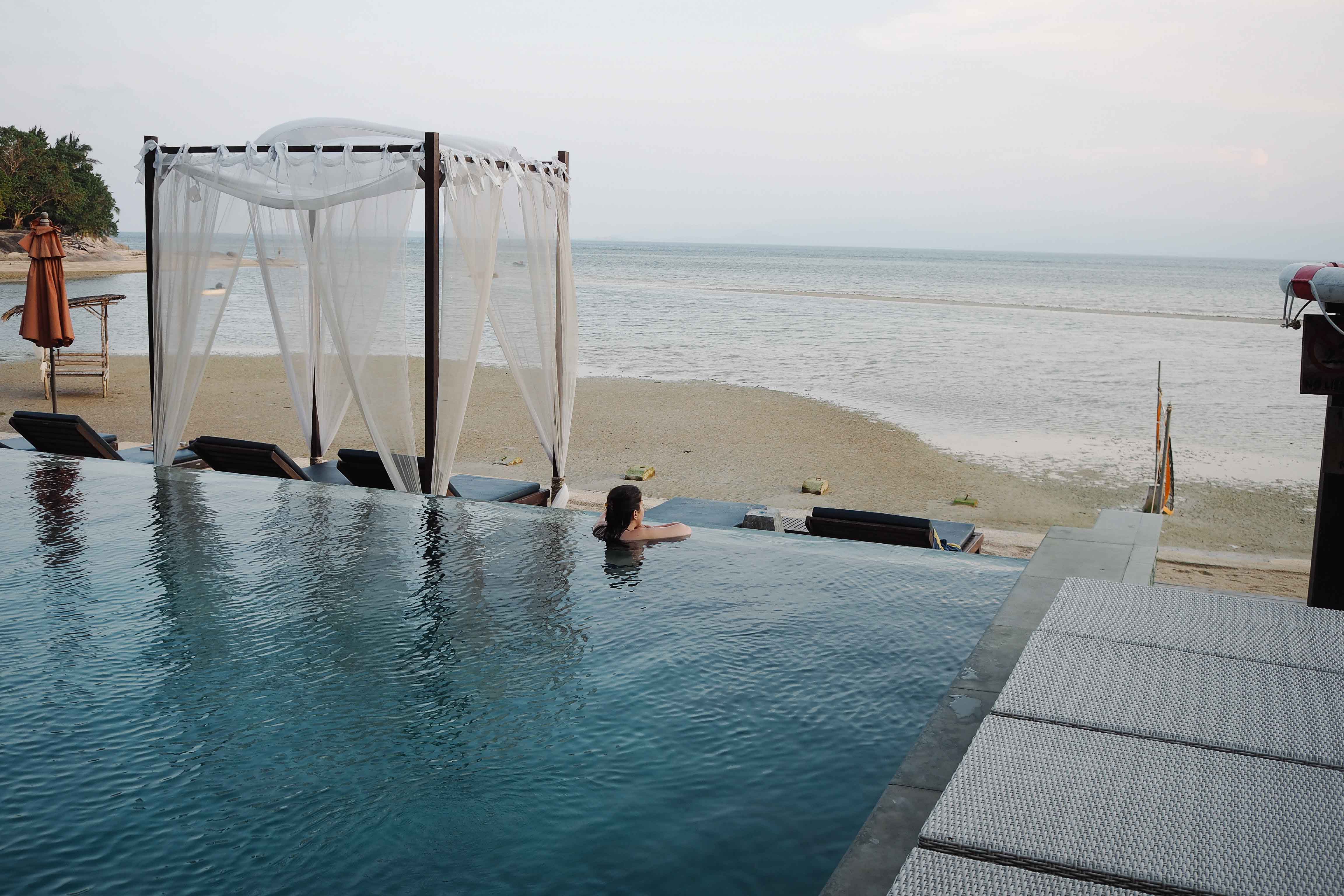 จากเกาะเต่านั่งเรือมาอีกประมาณ 2 ชั่วโมงเรือก็จะมาจอดเทียบที่ท่าเรือท้องศาลา ท่าเดียวกันกับที่นั่งมาจากฝั่งกรุงเทพนั่นแหละ เราเลือกกลับมาพักที่ จันทรามัส รีสอร์ท เป็นครั้งที่ 2 เหตุผลคือ ตัดสินใจแล้วว่าจะไม่พักที่ไหนอีกถ้ามาเที่ยวเกาะพะงันแล้วอยากอยู่แบบสบายๆ เพราะที่นี่อยู่จุดกึ่งกลางพอดีระหว่าง Fullmoon Party และ Half Moon (คือจะเมายังไงก็นั่งรถไม่นาน 5555) จะไปพักหาดริ้นก็เสียงดังเกิ้นนนน! เหตุผลอีกข้อคือติดใจเจ้าของที่นี่ เศรษฐีกับฮาร์ทบีท เจ้าหมาสี่ขาที่คอยต้อนรับและนำเราลงไปเล่นที่ชายหาดแทบจะทุกวันที่พักที่นี่ น่าร้ากกกกก 555555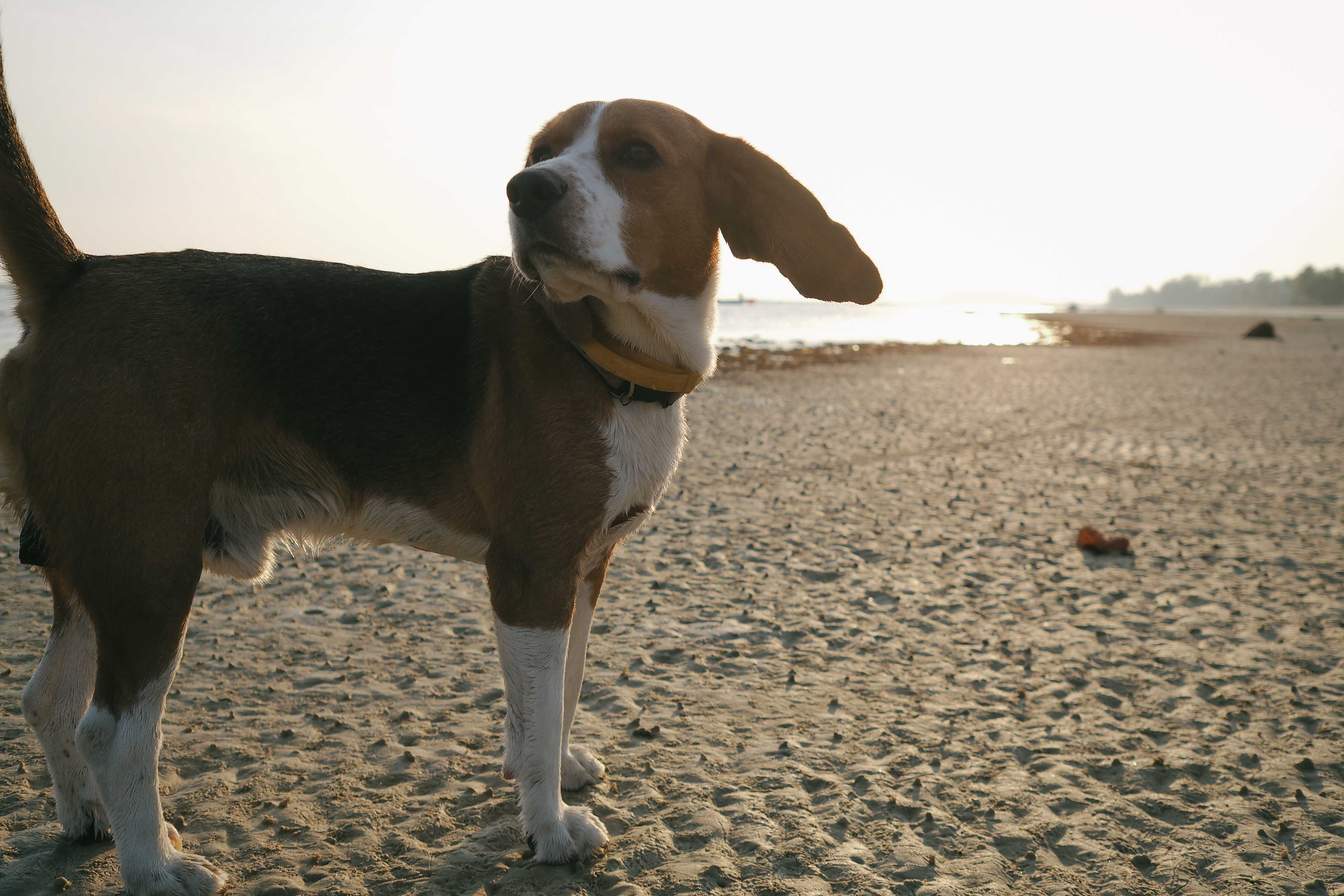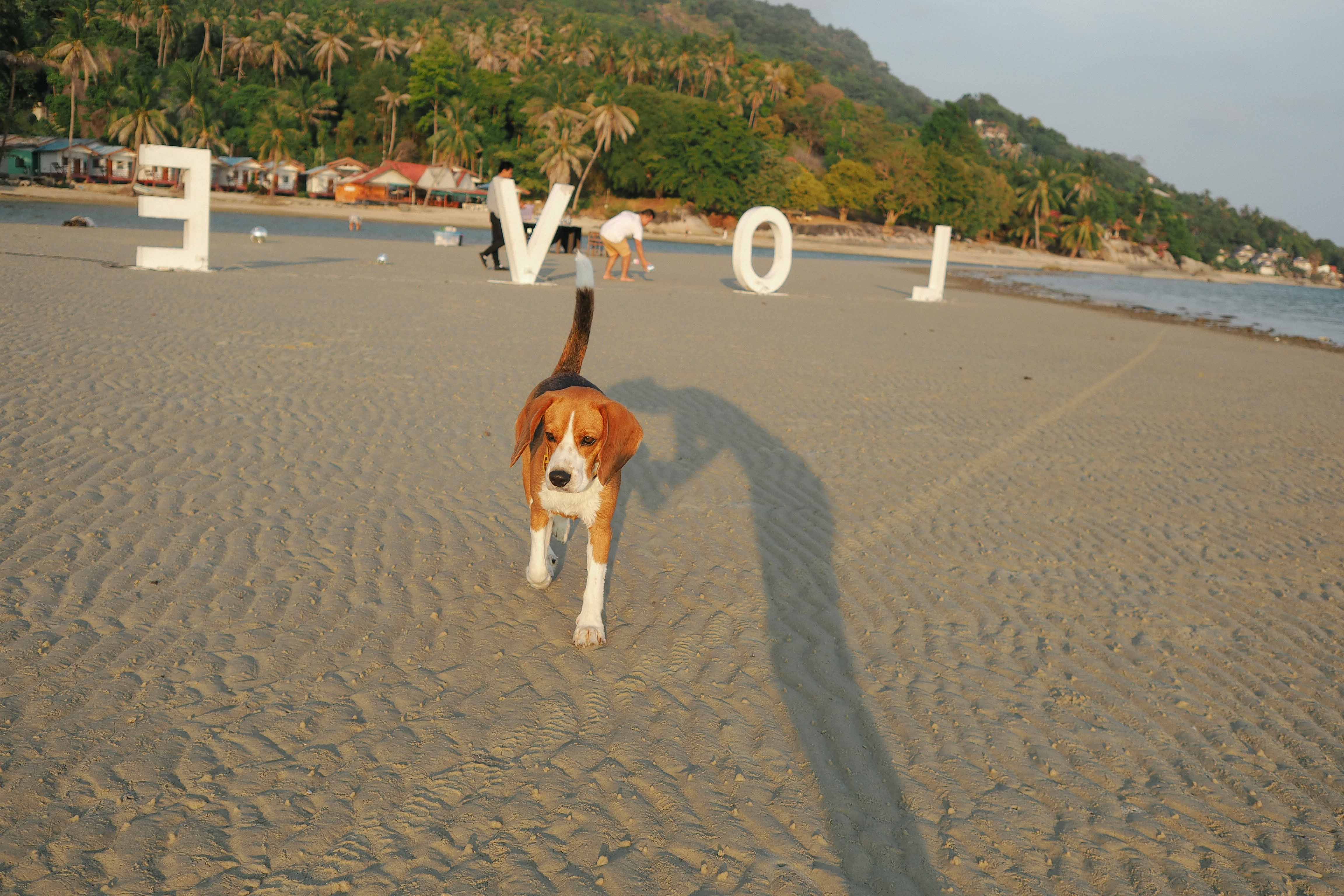 From Koh Tao, take a 1.5-hour ferry ride to Thong Sala Pier, which is the same pier as the ferry ride from Bangkok. We choose to come back to Chantaramas resort again, because we know this is the perfect place to relax, and because this is situated between Fullmoon party and Halfmoon party locations, making sure motion sickness won't hit you wherever you go. Haad Rin would also be too loud for us to stay at. The other reason why we come back, is because we truly enjoy spending time with the resort owners, 'Setthi' and 'Heartbeat', the two dogs that always welcome us and bring us to the beach all the time. How lovely are they?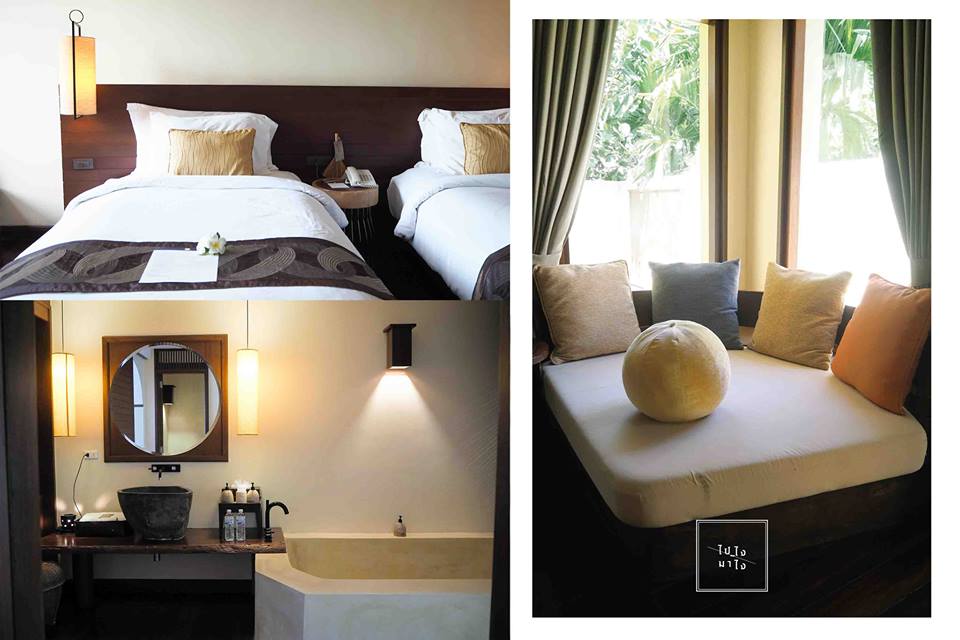 ที่นี่ไม่ว่าจะห้องพัก Type ไหนก็มีอ่างอาบน้ำให้ทั้งนั้น เราได้พักทั้งแบบ Supreme Deluxe Room และ Private Pool Villa พูดกับเพื่อนที่ไปด้วยกันแทบทุกวันว่า "ถ้ากูมีผัวนะมึ้งงงงง กูจะพามาแบบนี้" แต่หันไปก็เจอหน้าเพื่อนอีก 2-3 คนนั่งมองหน้าแล้วบอกว่า เพ้อเจ้อจัง 5555555 ที่นี่เหมาะสำหรับคู่รัก ไม่เฉพาะชาย-หญิง แต่ต้อนรับทุกเพศ LGBT Friendly มากถึงมากที่สุด
At Chantaramas, you can get the bath tub regardless of the room type. We got to stay at both Supreme Deluxe Room and Private Pool Villa, which we keep telling one another that we want to bring our 'partners' here. But well, after looking at one another, we realize that we're just daydreaming lol!
So yes, this place is perfect for lovers, not only just heterosexual lovers, but this place is probably the most LGBT Friendly resort we've ever been to.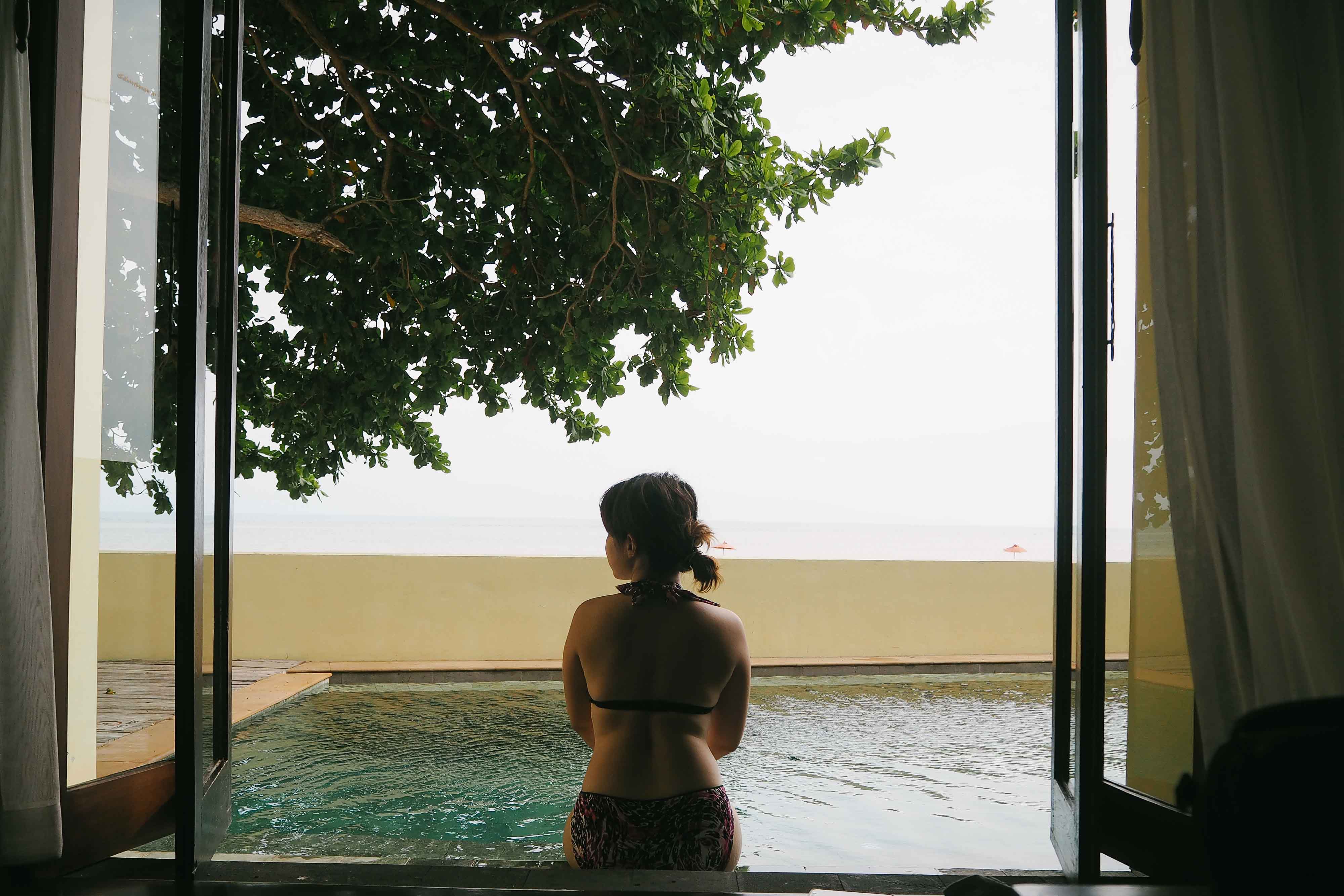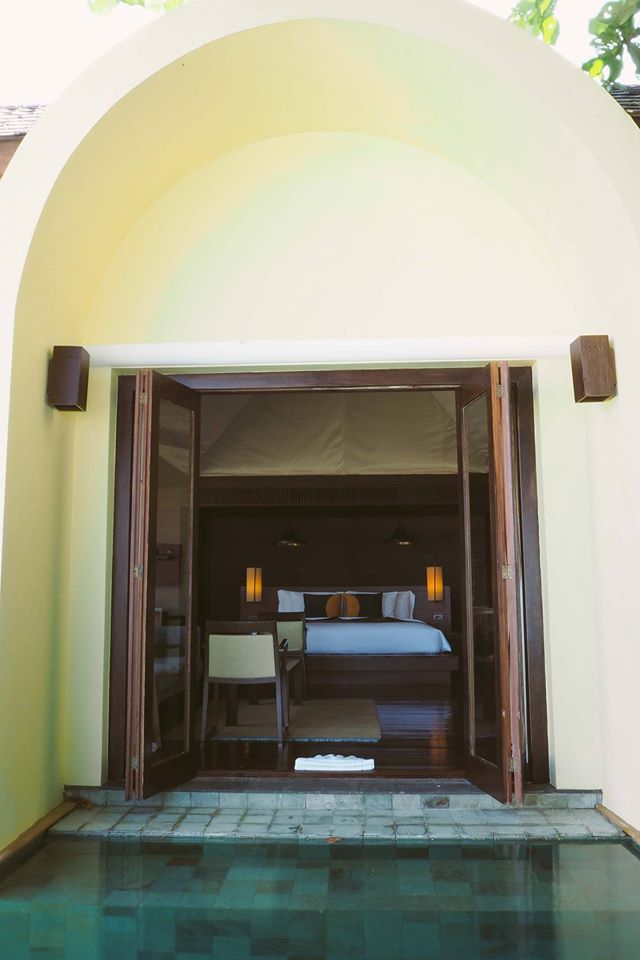 เราอยากแนะนำให้พัก Private Pool Villa ซักคืนเพราะมันดีงามจริงๆ (ซื้อในงานไทยเที่ยวไทย ที่จัดบ่อยๆ แค่ประมาณ 6,500 เท่านั้นแหละ) จริงตอนเย็นๆ มาถ้ากับแฟนแล้วสะกิดกันชวนไปว่ายน้ำป๋อมแป๋มน้า เขินเลยเลยแหละแก๊!
We would really like to recommend staying at Private Pool Villa at least for a night because it's just amazing. If you buy the package from the traveling fair, it will only cost about 6,500 baht per night! Imagine how romantic it would be to stay with your other half and have your own villa and swimming pool just to the two of you!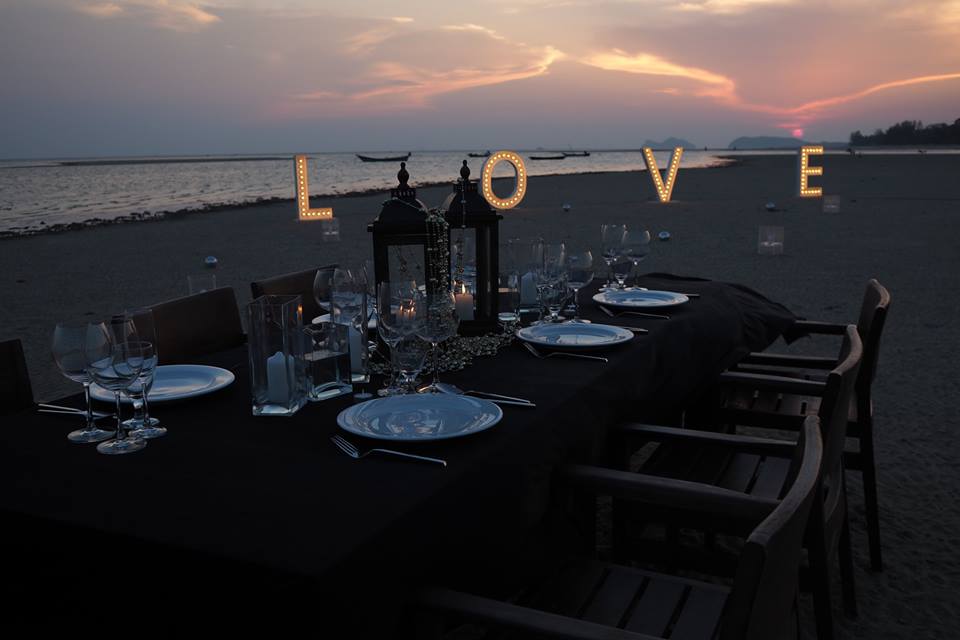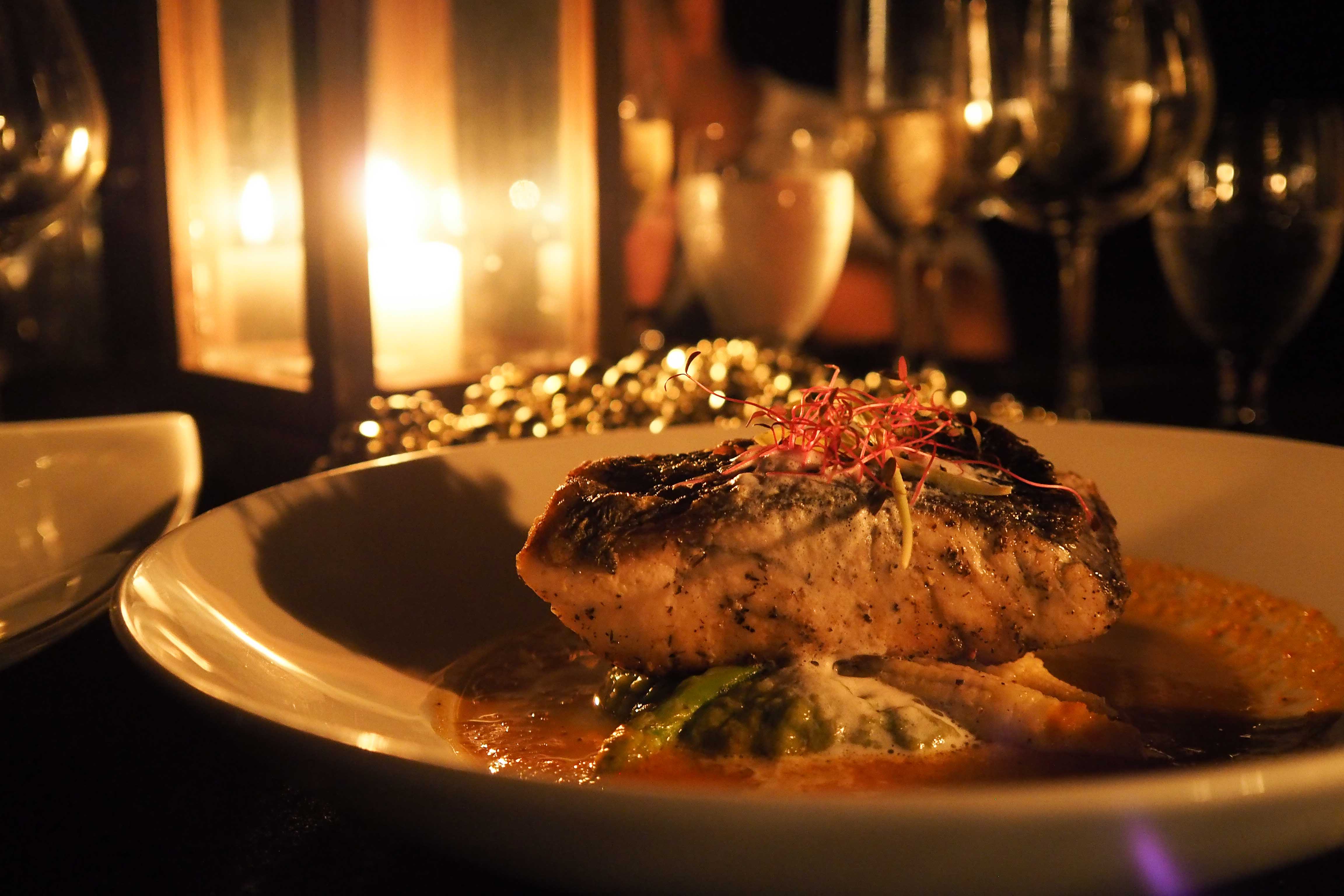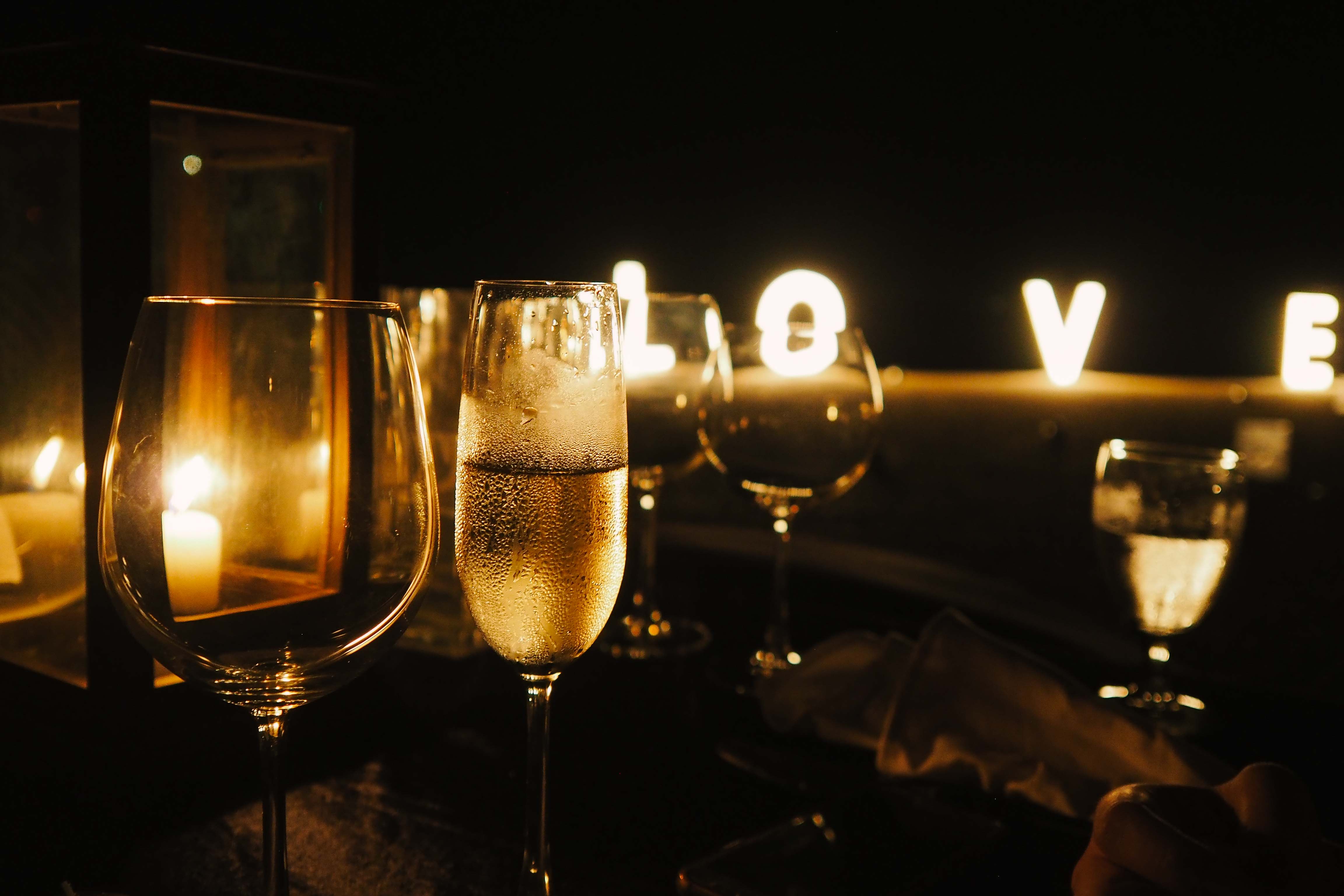 แล้วที่นี่สามารถจัดโต๊ะดินเนอร์ได้กลางทะเลอีกด้วย เออ โคตรเก๋เลย ด้วยความที่มันเป็นเกาะและอาหารบนเกาะราคาก็ค่อนข้างสูงเป็นธรรมดา เราไปมา 2 ครั้งและลองเทียบทุกครั้งแล้ว ราคาอาหารที่โรงแรม พอๆ กับข้างนอก เราเลยเลือกฝากท้องไว้กับที่โรงแรมเป็นส่วนใหญ่ (บอกแล้วไงตั้งใจมาชิว ไม่ออกไปไหน 5555) อร่อย สะอาด ค็อกเทลก็เลิศ
Apart from that, Chantaramas also offers dinner in the sea, yes, how cool this is! Because Phangan is an island with pretty high cost of living, we have compared and realized that the food and beverage prices in the hotel and outside are actually pretty much the same. Therefore, we decided to eat and drink mostly in the resort. Tasty, clean, and the drinks are perfect!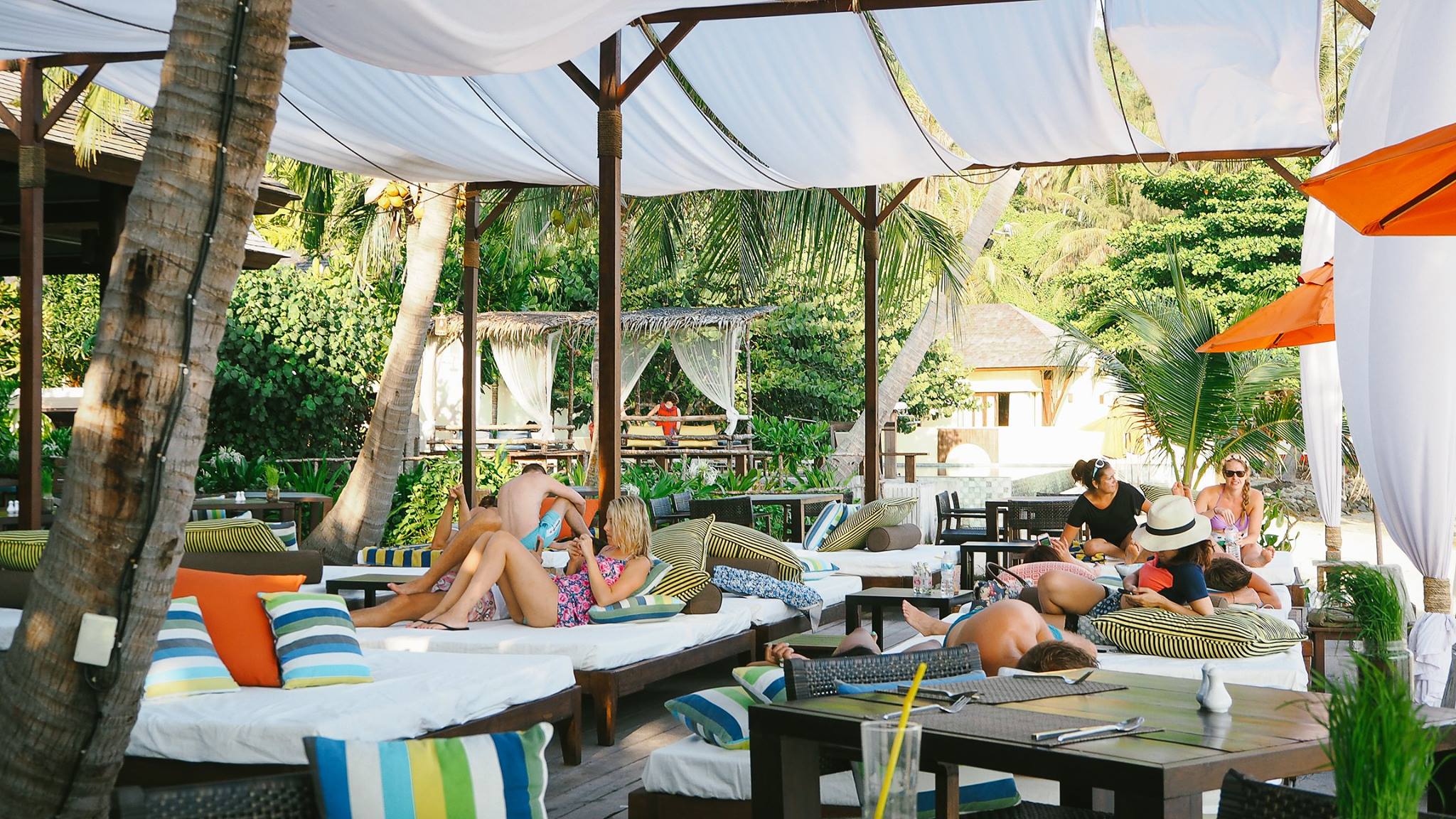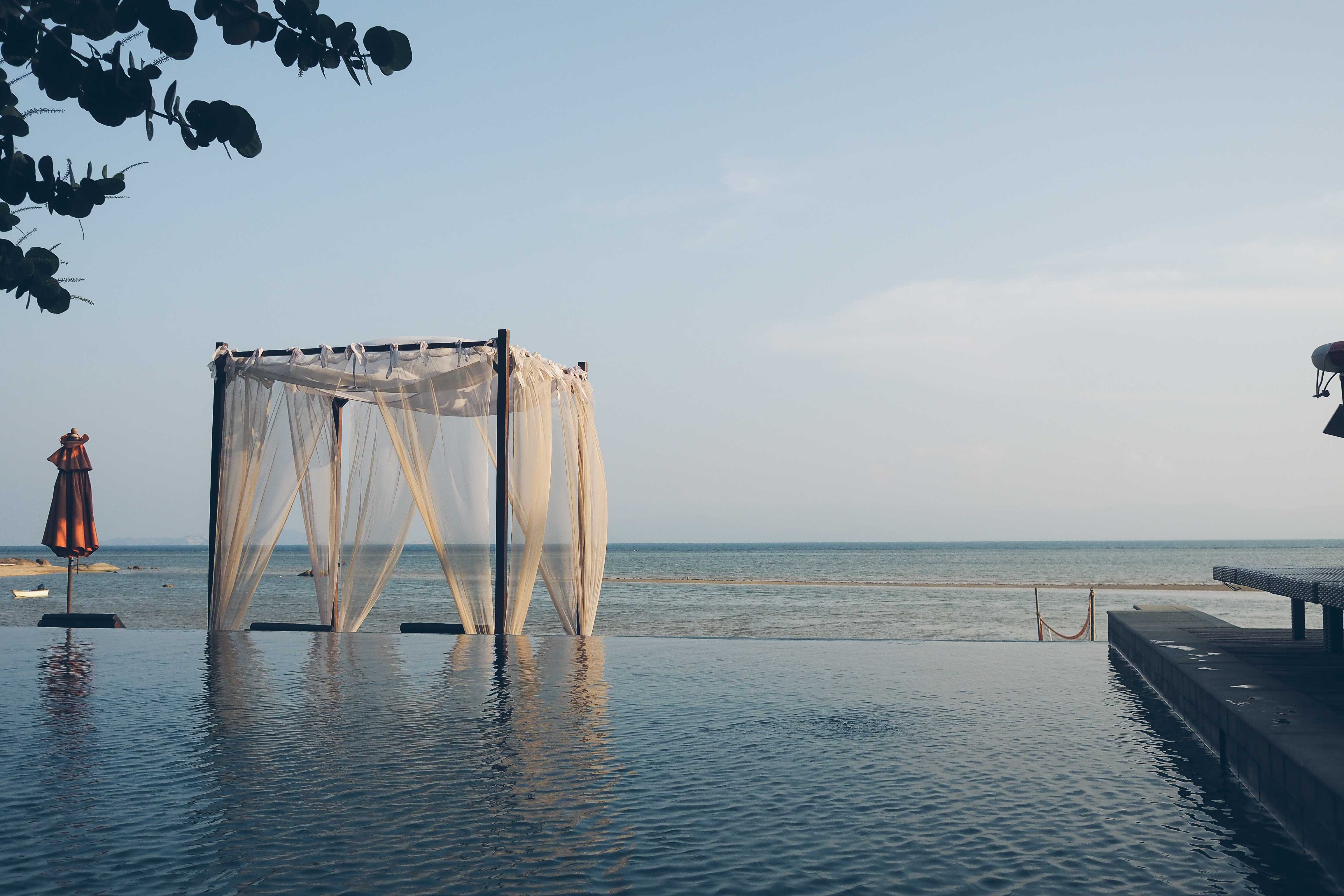 โซนที่เราชอบที่สุดคือด้านหน้าหาด เพราะมีสระว่ายน้ำอยู่ข้างๆ และอีกฝั่งนึงจะเป็นเบาะยาวๆ อีกหลายเบาะให้นอนเอกเขนกกันได้เต็มที่ รอบที่แล้วมาช่วง Fullmoon พอดี หลังงาน Fullmoon อีกวันคือวันพักผ่อน ฝรั่งก็จะนอนกันเต็มไปหมด แต่พื้นที่ก็เพียงพอสำหรับทุกคนเหมือนกัน จะพายก็คายัคก็มี หรือเล่นน้ำก็ค่อนข้างเป็นส่วนตัวและใสมากกกกกก
Our favorite zone is the beach front, due to the pretty swimming pool, coupling with the stretch of sofas to just lie down and chill by the beach. On the previous trip, we came during Fullmoon period, so the day after (a.k.a. the recovery day) there were so many tourists chilling at the beach front (yet there's still enough space for everyone). If you are into kayaking or swimming, you can definitely do it here too. The beach is pretty private and the water is quite clear here too.
---
ก่อนกลับ 1 วันมีอาการครั่นเนื้อครั่นตัวอยากออกไปดูบ้านดูเมืองกับเค้าบ้าง และเริ่มอยากกินส้มตำ อย่างว่าแหละเนาะ ทะเลกับส้มตำยังไงก็คู่กัน แม้จะไม่ได้อยู่อีสานก็เถอะ! เราเลยถามที่โรงแรมว่าร้านไหนเลิศสุด ขอแบบสะอาด และเป็นมิตรกับท้องไส้ 555555 นางก็แนะนำว่าให้ไปร้าน ส.ล.น. สาละแน! ชื่อร้านเหมือนโดนด่าตลอดเวลาเลยอะ 555 ร้านนี้เป็นร้านบ้านๆ แต่มีของ เพราะโคตรอร่อย โดยเฉพาะตำถั่ว ปกติเราไม่ชอบกินเลยเพราะมันเหม็นเขียว แต่ร้านนี้ตำได้กรอบ อร่อยและไม่เหม็น แถมไข่ตุ๋นหม้อไฟด้วยอีกหม้อ ราคาโคตรถูก ไว้ใจได้ อันนี้ Recommend ด้วยตัวเอง
On the day before our departure, we decide to go and take a look at the town (yes, for once) and have Papaya salad (yes, what's beach trip without Papaya salad?) We are recommended to try out the restaurant called 'Sor Lor Nor/Salanae' which offers delicious, clean northeastern (Isaan) food. The restaurant is quite simple with the down-to-earth feel, but the food is truly top grade. I usually don't eat 'Tum Tua' (Long bean salad) at all due to the strong smell, but not here. The Tum Tua here is 5-star. Don't forget to try out the hotpot steamed egg as well. Also, the price here is very cheap, we definitely recommend you to give it a try.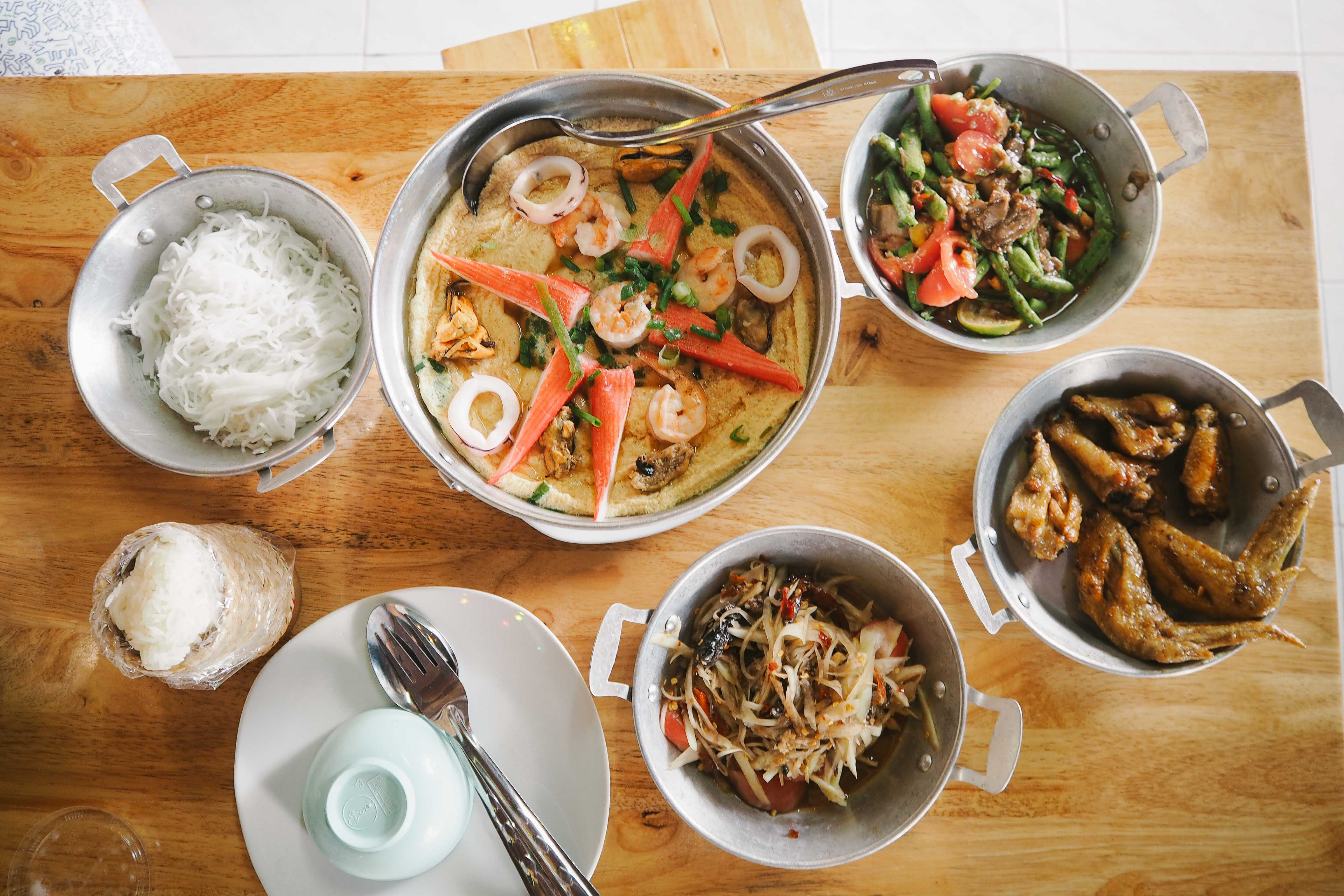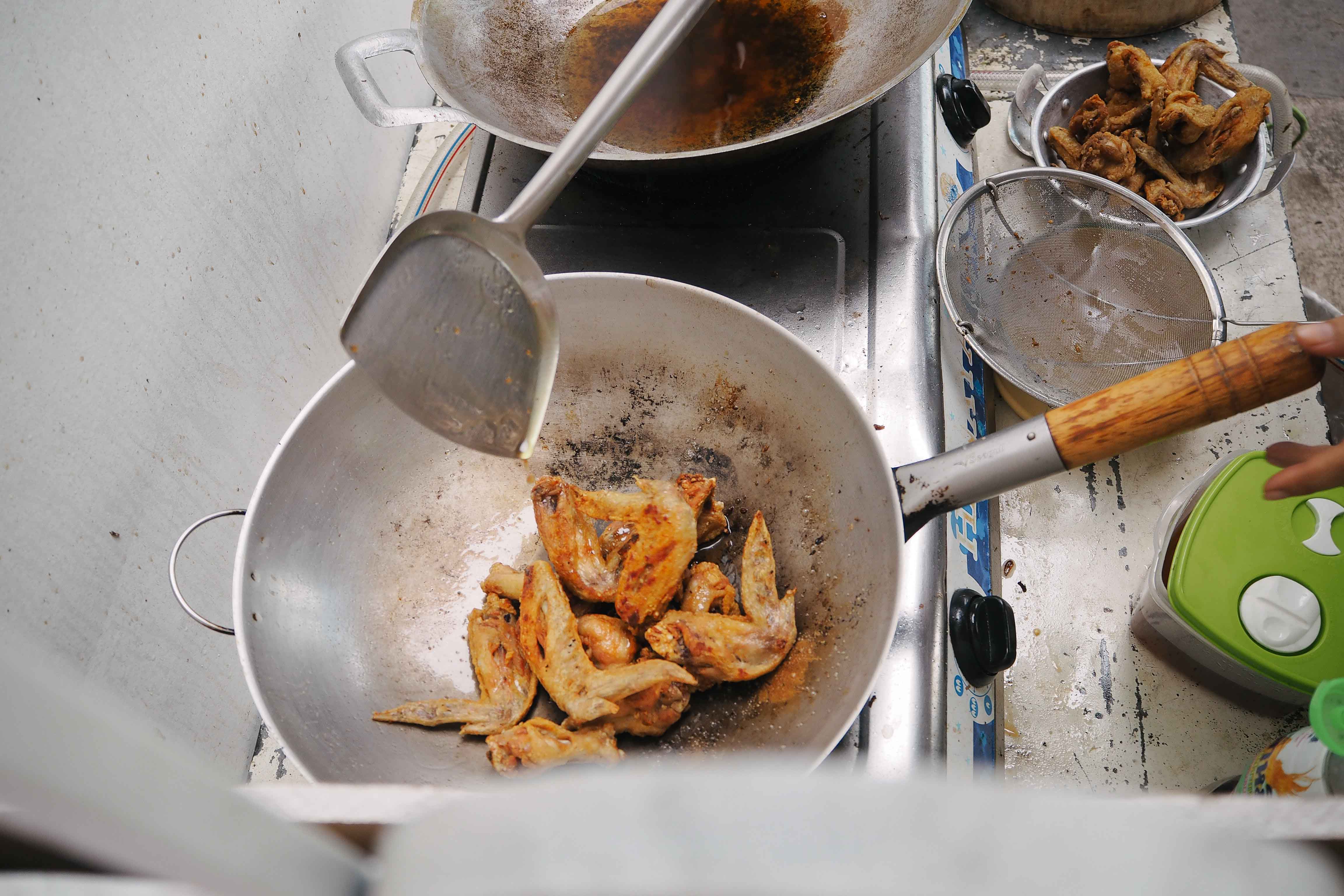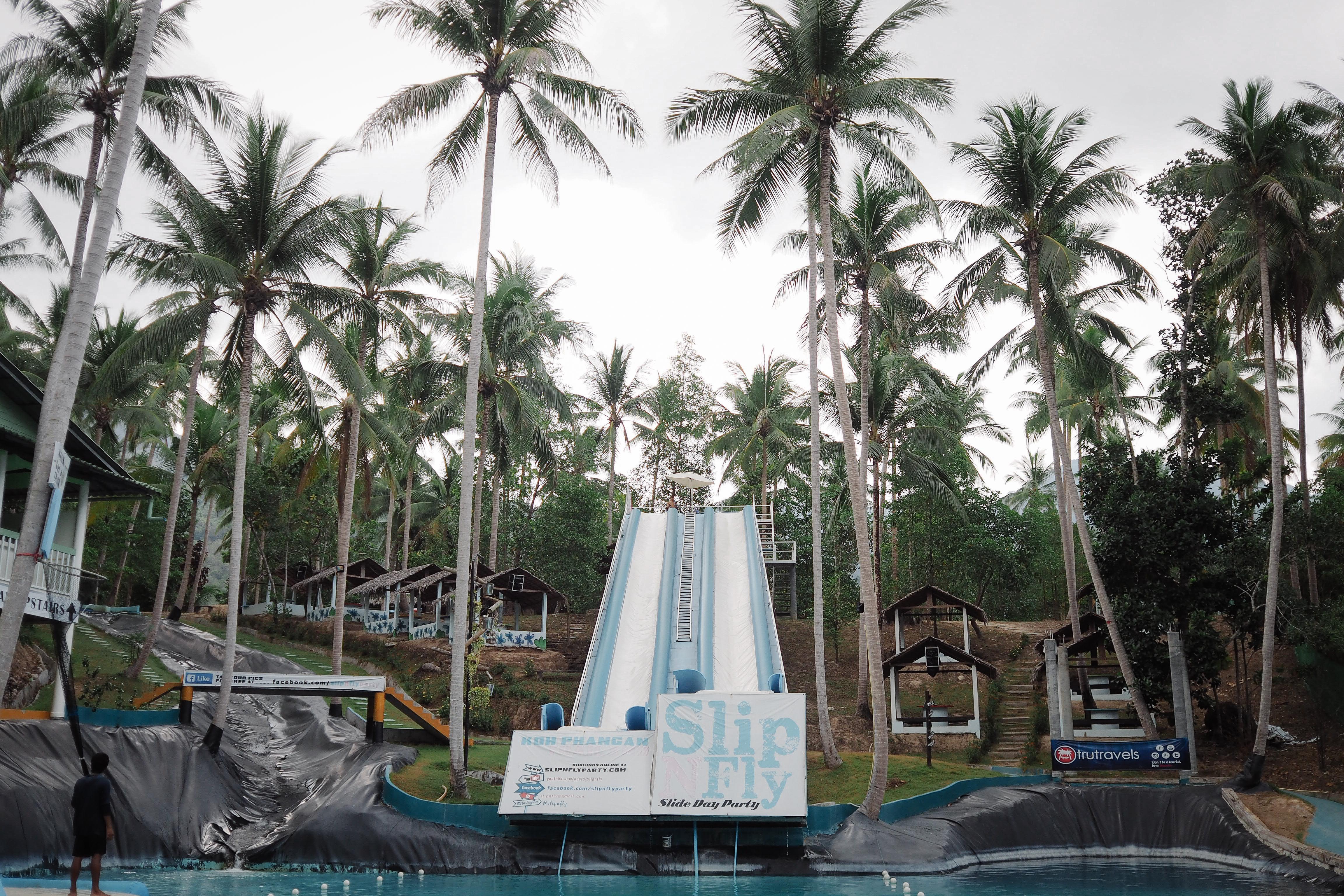 เราไปเล่น Slip n' Fly มาด้วยนะเว้ยยยยยย เท่ปะหละ คนละรอบสองรอบเท่านั้นแหละ หลังนี่แดงกันเต็มไปหมด 555555 แต่ควรมาลอง ฝรั่งเล่นกันเยอะมาก และที่นี่ก็ได้ Recommend ในเฟซบุ๊คแชร์กันเป็นแสนๆ ดูกันเป็นล้านๆ รอบ
And that's not the end of the trip. We get to try out the famous Slip n' Fly giant slider as well! (Cool right?) But after a few rides, our backs and legs are hurt so badly that they turn so red LOL! But yes, you should try this out, and you will truly understand how adrenaline rush feels like!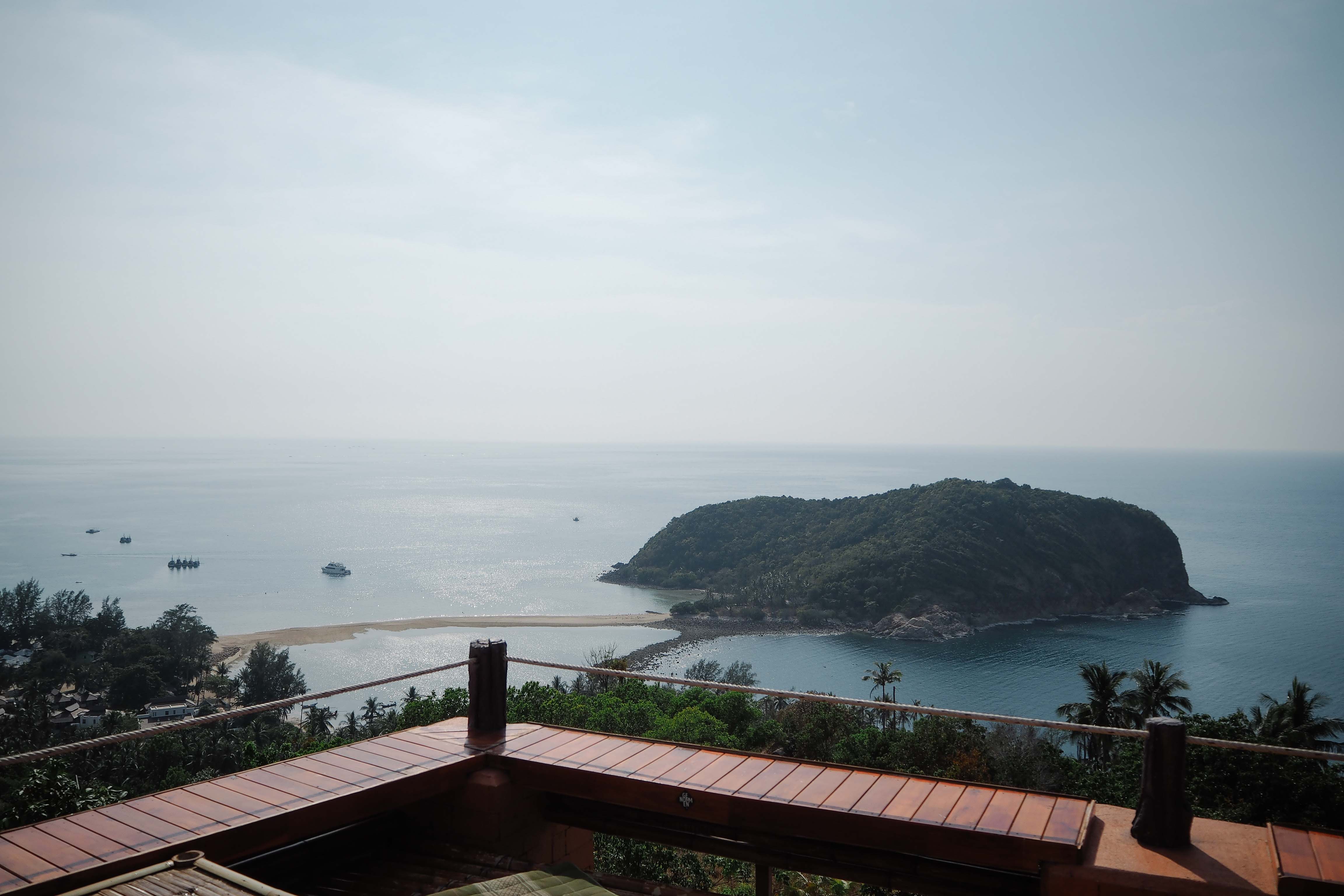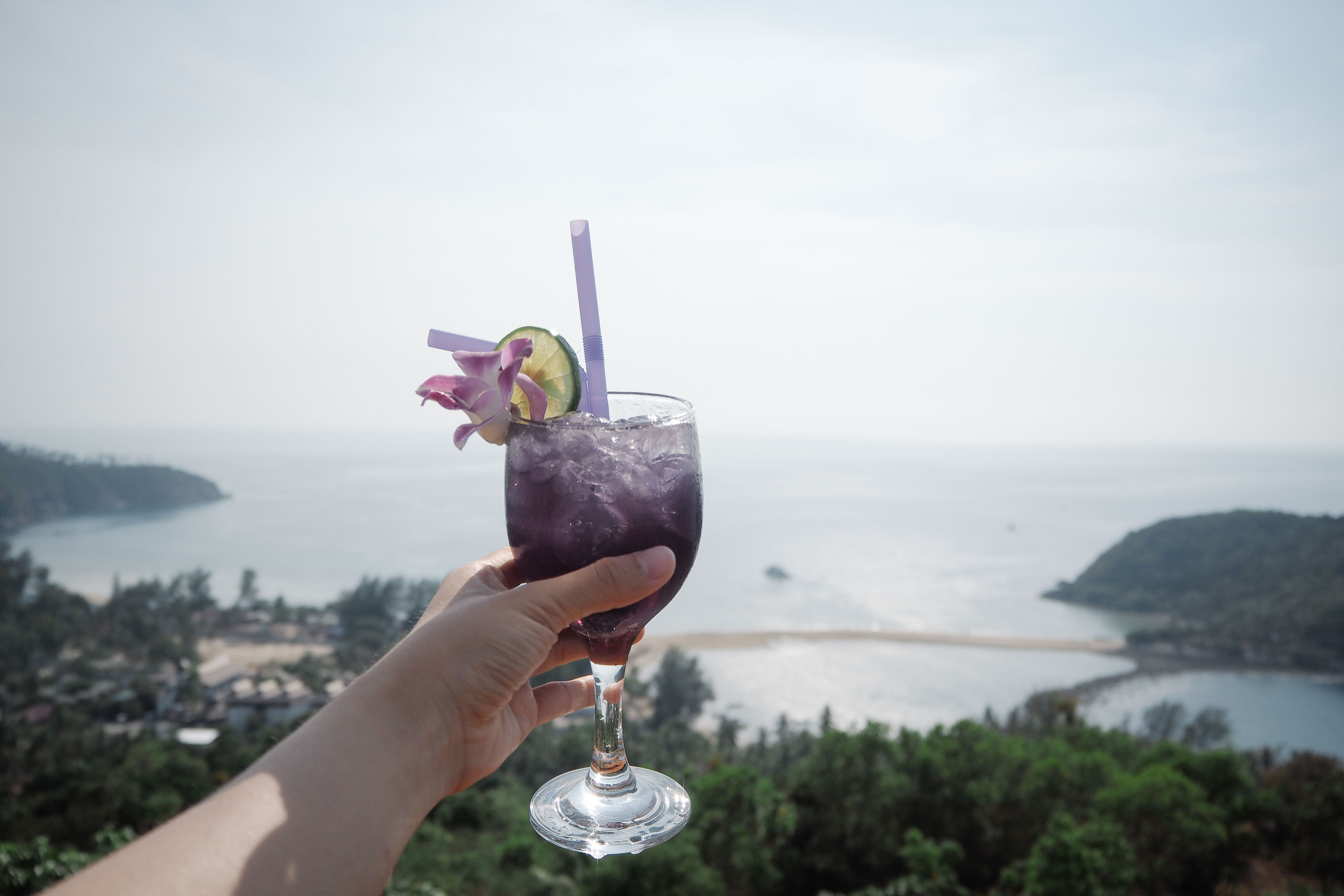 ช่วงที่เราไปมามีบาร์เปิดใหม่ที่วิวโคตรสวย แต่เดินทางค่อนข้างลำบากนิดนึง และขอโทษที่จำชื่อไม่ได้จริงๆ 55555 รู้สึกที่พะงันจะมีจุดชมวิวสวยๆ แบบนี้ 2 จุดคือที่นี่กับ Apichada View point ที่ Apichada จะใกล้กับจันทรมัสที่เราพักมากกว่าและเห็นวิวเกาะสมุยอย่างชัดเจน ไปตรงนั้นก็เวิร์กอยู่เหมือนกันเลยแหละ
During our trip, there is a newly opened bar — Three Sixty Bar viewpoint, situated on top of a mountain, offering 360-degree view of the island as the name says. In Koh Phangan, there are 2 viewpoints which are here and at Apichada viewpoint. Apichada is nearer to Chantaramas, and offers the view of Koh Samui, so we think it'll be a good place to check out too.
Secret Deal!
พึ่งเคยเห็นที่พักบนเกาะพะงันคืนละ 100 บาท 555555 อันนี้แนะนำเพิ่มเติมสำหรับสาย Backpacker เราไปเจอมาที่ Treechart Hostel ราคาเริ่มต้นคืนละร้อย แต่ต้องพัก 3 คืนขึ้นไป ยังไงก็ถือว่าคุ้มอยู่ดี ยังไงลองโทรไปที่ 077-377-333 และสอบถามรายละเอียดเพิ่มเติมกันเองเด้อ เห็นมีแบบห้องพักสำหรับคนมาเป็นกลุ่มด้วย

For the first time ever, we realize that you can stay in Koh Phangan for 100 baht a night. For backpackers out there, check out Treechart Hostel which starts at 100 baht a night (minimum 3 nights, which is worth it anyways) and offers rooms for groups as well. For more details, contact +6677-377-333!